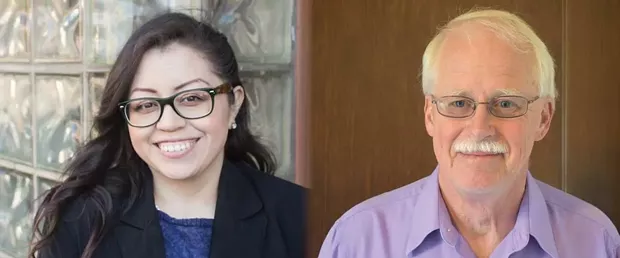 submitted
Karen Paz Dominguez (left) and Mike Lorig
THIRD UPDATE:
Karen Paz Dominguez continued to grow her lead in the auditor-controller's race with the final election night report, coming in 1,535 votes ahead of Mike Lorig and garnering 54.34 percent of the ballots tallied in the contest to his 45.28 percent.
PREVIOUSLY:
SECOND UPDATE:
The auditor-controller race continues to be close but Karen Paz Dominguez widened her lead a bit with the latest election report, coming in at 51.91 percent to fellow candidate Mike Lorig's 47.69 percent with 13,172 votes tallied.
PREVIOUSLY:
UPDATE:
The auditor-controller race continues to be close in the latest round of numbers released by the Elections Office with Karen Paz Dominguez at 50.75 percent and Mike Lorig at 48.81 percent with 10,667 votes tallied.
Paz Dominguez and Lorig are separated by 207 votes.
PREVIOUSLY:
Karen Paz Dominguez took a slight lead in the surprisingly dramatic race for the auditor-controller post with 50.37 percent of the vote to fellow candidate Mike Lorig's 49.19 percent in early returns (absentee ballots that arrived at the Elections Office before today and early voting).
The office spilled into the headlines all the way back in November, when Paz Dominguez used her three minutes of public comment to relay her concerns about understaffing and other issues to the Board of Supervisors. Tensions between Paz Dominguez and her supervisor, Joseph Mellett, led to a cascading series of events that included Paz Dominguez appealing to the human resources department to intervene in interdepartmental tensions, a sexual harassment complaint against Mellett, a complaint of a hostile work environment by several employees against Paz Dominguez, Paz Dominguez's decision to run for Mellett's job, Mellett's early resignation and the board's appointment of an interim replacement.
That final event, which took place several months before Mellett was due to retire, culminated in an apparent violation of the Ralph M. Brown Act by the Board of Supervisors on April 3, when it appointed a retired annuitant to the position in lieu of Paz Dominguez without public comment or disclosure (the board corrected this at a subsequent meeting).
In the meantime, Lorig, who ran an unsuccessful campaign for the position in 2010, told the
Journal
in a May interview that he felt better prepared this time around. Lorig came out of semi-retirement in 2005 to work as an accountant for the county's Department of Health and Human Services after 30 years in the private sector. Both candidates emphasized a need for better communication; with Paz Dominguez championing outreach to the community and Lorig calling for cross-training of employees and a "less siloed" chain of command between different county departments.
Read more about the race
here
.