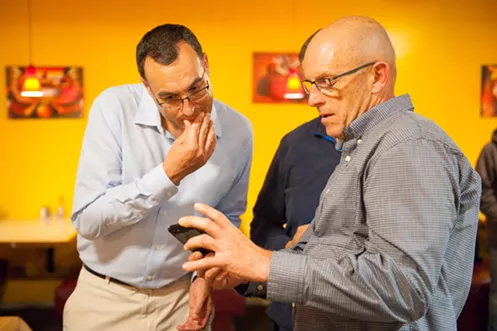 Mark McKenna
Incumbent Fifth District Supervisor Ryan Sundberg (left) eyes the narrow election results on Mike Pigg's phone.
Tens of thousands of Humboldt County voters hit the polls Tuesday and when the dust settled in the wee hours of Wednesday morning, the county had ushered reform into the auditor-controller's office, handed an incumbent supervisor a third term, picked a judge in a landslide and, well, was still on the fence in a Fifth District supervisorial race that's too close to call. Here's the rundown.
Nail-biter in the Fifth
Mark McKenna
Fifth District challenger Steve Madrone (left) talks with his soon to be son-in-law Brandon Anderson at his election party in Fieldbrook.
After trailing through election night and into the first hour of June 6, Fifth District challenger Steve Madrone lurched into a narrow, 33-vote lead over two-term incumbent Ryan Sundberg with the final election night report.
Sundberg took a modest lead in the early reports — taking 52.31 percent of the vote — and built on it by taking 54.95 percent of the first returns from Fifth District precincts shortly before midnight on Election Day, leaving him holding a 185-vote edge with 40 percent of precincts reporting. But the final election night report 45 minutes later saw Madrone close the gap to finish with a narrow lead, having taken 50.25 percent of the vote to Sundberg's 49.56 percent.
At the close of election night, Elections Manager Kelly Sanders said she did not have an estimate of how many ballots remain uncounted countywide, much less in the Fifth District specifically.
In the final election night tally, 4,796 ballots had been counted in the race. The last Fifth District supervisorial contest, back in 2014, saw a total of 5,720 votes cast when the vote was certified, indicating there could be around 1,000 ballots still uncounted in the race. In any event, the final outcome of this race won't be known for weeks and may end up being hotly contested.
Neither candidate could be reached for comment on election night. For the election night blow-by-blow, click
here
.
Bass Avoids Runoff, Cruises in Fourth
Thadeus Greenson
Fourth District Incumbent Virginia Bass was all smiles at her election night gathering.
Supervisor Virginia Bass appears headed for a third term in office with a substantial lead over her challengers Dani Burkhart and Mary Ann Lyons, who were locked in a neck-and-neck contest for the second slot in the Fourth District race.
In the final election night report, Burkhart had a one-vote edge over Lyons, with the challengers having taken 21.21 and 21.18 percent, respectively. Bass, meanwhile, received 57.27 of the tallied ballot results. In all, 3,272 votes have been counted in the race so far.
Lyons said her goal going into the election was to keep Bass under the 50-percent threshold and come in second, so she could face the incumbent in a November run-off election, but said she's OK if that's not what happens.
"I'm feeling pretty good about being able to inform the dialogue about what's going on in our community," she said.
Bass, an election veteran who previously served on the Eureka City Council and as the city's mayor, said she was still waiting to see more votes counted.
"I'm feeling cautiously optimistic," she said toward the end of Tuesday evening, unwilling to call the race.
Burkhart was not immediately available for comment.
For the full election night play-by-play click
here
.
A Reform Candidate's Decisive Win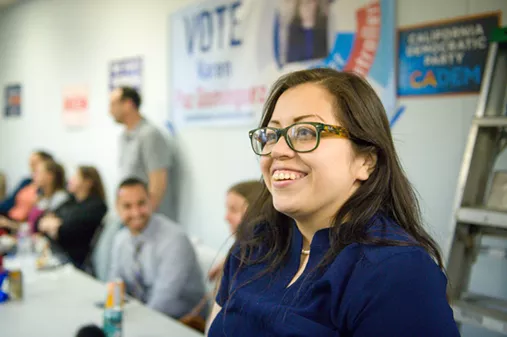 Mark McKenna
Karen Paz Dominguez flashes a smile as she watches the results come in.
In what initially looked to be a tight race for the job of county auditor-controller, Karen Paz Dominguez steadily grew her lead and dominated at the polls Tuesday to end up with 54.34 percent of the vote to best fellow candidate Mike Lorig's 42.58 percent in the final election night report.
Seen as a reform candidate and embraced by local progressive groups, Paz Dominguez leaned on a 17-point advantage in the Election Day vote to finish the night with a 1,535-vote lead, with 16,939 ballots counted in the race.
The normally staid race to be the county's top accountant took a series of unusual turns starting back in November when Paz Dominguez, the assistant auditor-controller, arrived at a Humboldt County Board of Supervisors meeting to voice her concerns about understaffing and security breaches in the office. Paz Dominguez's boss, Joseph Mellett, resigned his post a handful of months later and the office is currently headed by interim Auditor-Controller Cheryl Dillingham.
In what turned out to be a surprisingly dramatic campaign, the two candidates both emphasized a need for better communication and more cross training of employees.
To see how the night transpired, click
here
.
New Judge in Town
Mark McKenna
Humboldt County's next judge Lawrence Killoran celebrates with local attorney Kathleen Bryson.
Humboldt County's first contested judicial election in decades ended in a landslide, with Lawrence Killoran taking 65.97 percent of the vote to Lathe Gill's 33.64 percent.
"It's very flattering to have the community come together and show that kind of support," Killoran said by phone after retiring from his election night party at the Samoa Women's Club. "I'm very pleased."
Killoran will take the seat held by Judge Dale Reinholtsen, who will retire at the end of the year after 21 years on the bench. He is a partner in the firm Scott, Robinson and Killoran and has been practicing law for 17 years. In the campaign, Killoran won a diverse range of endorsements, including those of four sitting judges, Public Defender Marek Reavis, Sheriff William Honsal and a smattering of prominent local attorneys. On the campaign trail, he maintained that crushing caseloads and a high percentage of defendants with underlying addiction issues are two of the largest issues facing the court, and pledged to work to divert offenders out of the criminal justice system and into treatment whenever possible.
When Killoran takes his seat on the bench, he'll be robed as just the county's 34th superior court judge, joining the exclusive club with a new crop of judges that includes Greg Elvine-Kreis, Kelly Neel, Kaleb Cockrum and Timothy Canning, all of whom Gov. Jerry Brown appointed to fill vacant seats within the past 12 months.
To see how the race unfolded on election night, click
here
.