UPDATE: IWW representative Nathan Irvine reports that the workers ultimately voted not to unionize.
"I didn't really see that one coming but it happens," Irvine said. "I think people got scared."
"Though we later braced ourselves for a possible defeat, we also remind ourselves that this is just one battle, of a bigger campaign, of a greater movement," Irvine added in a later press release.
Previously
:
While most of Humboldt County hit the polls on Tuesday, this Thursday and Friday will mark an important vote for employees at two local dialysis clinics. Thanks in part to the efforts of one terminally ill patient, the clinics could be the first of their kind in California to unionize.
Dialysis, the process of purifying the blood using a machine, is a medical necessity for patients with chronic kidney disease. It usually involves going into a clinic and sitting from three to four hours, around three times a week, while a dialysis technician monitors the "graft," an entry to the patient's vein, usually on their arm, and the machines that perform the detoxifying work usually done by our body's kidneys. Some people may remember a May of 2017 "info-tainment" piece by John Oliver, host of HBO's Last Week Tonight,
about the dialysis clinic industry
. Most of the expenses for dialysis treatment are covered by the federal government and a booming private business has risen around chronic kidney disease, which is the ninth leading cause of death in the United States. Nationally, 70 percent of dialysis treatment centers are owned by just two companies, Fresenius and DaVita. Locally, Fresenius Medical Care, a European healthcare company, has a monopoly on treatment, with two clinics in Humboldt County, one in Eureka and one in McKinleyville.
According to two techs the
Journal
spoke to, working conditions in these clinics are grim, with medical workers stretched thin to compensate for understaffing.
"We were working six to seven days a week, six to eight hour shifts," says Ginger Matcham, a dialysis tech at the Eureka clinic. "For a while I was working 14 to 15 hour days, four days a week. One day I literally dropped to the floor and couldn't breathe. I had to go the E.R. At the emergency room, they said, 'You're exhausted.' I've never worked at a job like that."
Matcham adds that the company makes efforts to help its workers, paying time and a half for shifts over eight hours and double time for those on 16 hour shifts. Base pay for techs is $15 an hour and their training is done onsite by the company, as opposed to some other organizations which require thousands of dollars worth of education before you can start. The company also offers healthcare, scholarships for workers' children and discounts on some things like purchasing a car. But systemic problems at the Humboldt County locations have led to worker burnout and concerns about patient care.
Matcham, who has worked for Fresenius for two years, attributes much of the dysfunction to a high turnover rate in management. She has had two managers in two years, another worker has seen eight managers in 10 years. Worker concerns are not traveling up the chain to management, she says. Those concerns include onerous patient loads for techs that workers worry might contribute to insufficient time to sterilize equipment and an inability to properly monitor dialysis machines.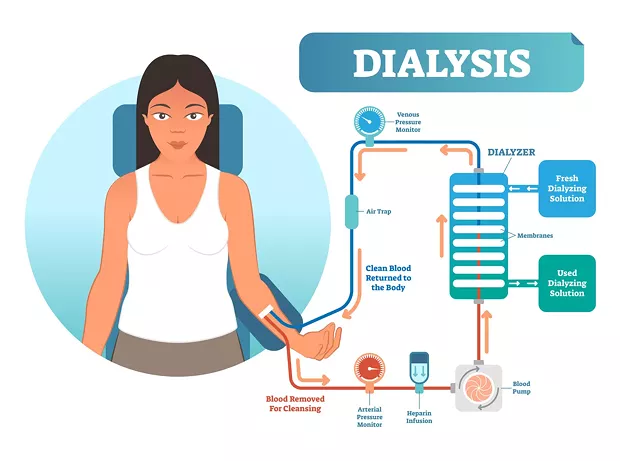 Reached for comment, Fresenius spokesperson Bradford Puffer said he could not comment on internal discussions regarding personnel issues, sending the statement below. (A call to management at local clinics went unreturned.)
"Our company and dedicated employees are committed to providing high quality and supportive care for patients," Puffer stated. "We are proud that both of our Eureka and McKinleyville dialysis clinics recently received Five-Star clinical ratings, the highest possible score in the industry. We respect the freedom of our employees to petition for unionization, and their legal right to decide for themselves whether or not they want to join a union."
California dialysis workers interested in unionizing have received a smattering of press in the last year, with one prominent union – Service Employees International Union – initially supporting these efforts in other parts of the state.
But according to SEIU-UHW spokesperson Sean Wherley, the union is currently throwing all of its efforts into supporting Senate Bill 1156, which changes some reimbursement options for dialysis patients, as well as a November ballot measure dubbed the Fair Pricing for Dialysis Act. Another bill, Senate Bill 349, aims to regulate the amount of patients and hours per technician but those changes wouldn't go into effect until 2020.
Rachel Montoya doesn't have that long. The spunky Eureka resident says that being diagnosed with end stage renal disease so young – Montoya is in her early 40s – came as a shock.
"My doctor said 'You have five years, maybe 10,'" she said in a phone interview. "It was difficult, emotional for me to go into a dialysis center. These techs and these nurses, they put a smile on my face every day. At the time I was losing my 12-year partner. So on top my life was emotionally devastated. They loved me, cared for me. I became really close friends to a few of them. I became really close to them because I love them so much."
Montoya says she has a family background in organizing and when she saw conditions at the Eureka clinic, with workers complaining of long hours, of being tired, she asked if they had considered unionizing. The nurse who was catherizing her, she claims, disappeared into a back room, then reappeared a little while after, saying in a quiet voice that she "couldn't discuss it."
But Montoya – who began dialysis in Eureka in July 2017 – continued to have quiet conversations with the employees, who she heard complaining about their working conditions as they monitored patients. After some time workers began to be receptive to her information about unionizing and began the process of rallying for a vote, although Montoya says this success came at a personal cost. When she was housesitting recently in McKinleyville, she claims that clinic refused to admit her because of her activism in the Eureka location. This meant she had to drive down to Eureka three days a week, making the 13 mile return trip after the often exhausting medical procedure. Montoya claims that she was also chastised by her doctor for her efforts in unionizing.
In a letter sent by Montoya to other patients, calling on them to support workers, she claims that employees were not adequately trained.
"State certifications were not kept up-to-date and patients were being treated by uncertified employees," the letter says. "Management's way of addressing this issue was to fire these employees and then immediately re-hire and send them into educational classes."
Submitted
Nathan Irvine and Rachel Montoya table for IWW.
Matcham confirms that the paperwork for her own certification was not sent by Fresenius' management to the state, putting her temporarily out of compliance. She complained about this and other issues but alleges her complaints were not addressed by the company. Matcham says it wasn't until after she began organizing workers to join the International Workers of the World she finally met with upper management – because they specifically came to town to dissuade Fresenius employees from unionizing.
"Now this union thing came up, this Sunday the big wigs came out and said they'd make those changes we've asked for for years," Matcham says, adding that she took it upon herself to sit with corporate and take responsibility for starting the drive to unionize to shield her coworkers from potential retribution.
"If we don't do a union, they can pull out as quickly as they came in. They can fire all of us."
Matcham also alleges that the company's human resources director has told workers that if they unionize they can "no longer work with" employees on their demands.
Seth Wasylyszyn, a tech at the McKinleyville site, and Nathan Irvine, an IWW organizer, allege that the company has been giving workers inaccurate information, claiming that the IWW "only represents sex workers" and that it was financially in the hole. Wasylyszyn claims that the information employees were given by Fresenius was cherry picked and inaccurate.
"The company has lied a couple of times, other times they give half the truth," Wasylyszyn says. "I have a business background. I like to verify details."
Wasylyszyn, a former military medic, calls working conditions in the clinic "terrible."
"Since I started both clinics have been understaffed, which leads to a lot of stress," he told the
Journal
. "There's a lot of stress and a lot of people doing unsafe things."
Wasylyszyn claims that the clinics have brought in traveling nurses, who are generally compensated better than regular employees, causing resentments.
Matcham, who will register her vote with the IWW during yet another 16-hour shift this week, says she has the luxury of potentially doing another job if her unionization efforts jeopardize her work at Fresenius.
"I'm doing it because my coworkers are tired," she says. "They complain every single day. I'm trying to figure out a way to help. I made the difference in the patient's care, so I did the next thing and wanted to make the difference in my coworkers' care."
Editor's note: This article originally misstated the number of times per week a dialysis patient will receive care. The accurate number is around three times a week, not one. It has also been updated to more accurately reflect Senate Bill 1156, Senate Bill 349, the Fair Pricing for Dialysis Act and where SEIU-UHW is putting its efforts, as well as to more accurately reflect Rachel Montoya's familial history in unionizing. The
Journal
regrets the errors.