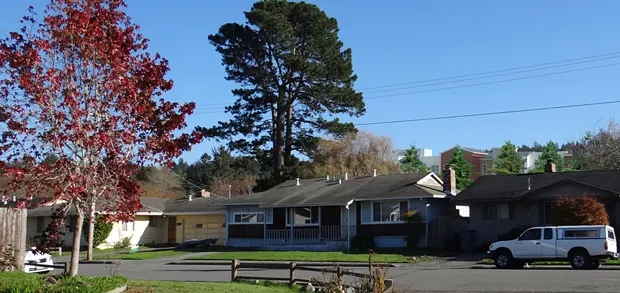 City of Arcata
Conceptual photo illustration of how The Village project would look from the perspective of the Westwood neighborhood.
Humboldt State University is touting its effort to "finalize a partnership" with a private developer on a massive student housing project near campus that is the subject of a special Arcata City Council meeting tonight.
According to President Lisa Rossbacher's June 6 letter to council members, the university had been receiving information about The Village for more than a year but didn't "make progress" on a formal relationship with AMCAL until May 8, which happens to be the same day a
divided planning commission voted not to recommend the needed general plan and zoning amendments
to the council.
The proposed two-and three-story complex for some 600 students has drawn the ire of an organized group of community residents who have voiced concerns about its size and impacts to surrounding neighborhoods. Read more about Arcata Citizens for Responsible Housing and its proposed alternative to The Village
here
.
Due to the project's anticipated large draw, the council's consideration of the project was separated into two phases with the staff and developer presentation last night and public comment slated for today at 6 p.m. in city hall.
The university has previously said it was uninvolved in the development but Rossbacher did pen a letter to the council in December citing the critical lack of available student housing.
The HSU releases states that "significant" revisions made to the project allowed for the partnership to progress — including reduced rents, downsizing by about 200 students and additional parking spots (43 were added for a total of 409) — although at least one planning commissioner cited a lack of significant changes in response to community concerns while casting a no vote on May 8.
"The situation is urgent. I have heard countless stories from students who have struggled to find housing, and I have seen the statistics. We need to act," Rossbacher said in the release.
According to the release, AMCAL would own the buildings but HSU would manage the complex much like its campus dorms with a residential coordinator and advisers living onsite and the University Police Department and HSU facilities staff would provide services.
Read the release from Humboldt State University below:
Humboldt State University is working to finalize a partnership with the development group AMCAL to create new housing for more than 600 students near campus.

The project, a significantly revised version of the Village project that has been in development for a number of years, would increase the availability of quality, safe, and affordable housing for students. The University's role would be to manage the facility in much the same way it manages on-campus residence halls.

If approved by the City of Arcata, the Village could be completed in time for occupancy as soon as Fall 2020.

University officials have shared the emerging plans with a number of city officials over the last week. A group from HSU joined AMCAL representatives to speak about the plans at last night's Arcata City Council meeting.

"We're really excited about this opportunity," said Douglas Dawes, HSU's Vice President for Administrative Affairs. "Our students have been clear about the lack of enough housing options near campus, and the same issue was raised by the external consultants who conducted our market demand study last year."

A recent statewide study, co-authored by HSU Professor Jennifer Maguire, showed that 1 in 5 HSU students experienced housing insecurity at least once in the last year. And students of color at HSU have continued to report particular challenges finding and maintaining housing close to campus.

The project would go a long way toward addressing those challenges, according to HSU President Lisa Rossbacher.

"The situation is urgent. I have heard countless stories from students who have struggled to find housing, and I have seen the statistics. We need to act," Rossbacher said.

The Village project proposal has changed in numerous ways in recent weeks, which allowed the University to seek to formally partner with AMCAL. Until very recently, the project did not represent a viable partnership. What changed, especially since discussions on May 8, is that the development team made significant modifications based on feedback from students and the community.

The major changes recently made to the project include:

• Costs to student residents have been reduced, with rents set to be slightly lower than similar units on campus. Amenities have been reduced in favor of greater affordability.

• Concerns expressed by neighbors have been addressed, including reducing the heights of some units and adding more parking.

• Community space and the individual units have been reconfigured to more closely match the needs expressed by students in HSU's most recent market demand report. Other changes have been made in response to student meetings with the developer.

The latest plans feature housing for 602 students in two-story and three-story buildings, as well as 409 parking spaces. Students would be able to lease fully furnished spaces for academic terms with no large security deposit required. There would be social and study areas throughout, as well as a fitness center and basketball court.

Under the management agreement, AMCAL would provide funding for HSU to manage the facility. Students would be provided support and programming, and a full-time Residence Life Coordinator would live at the facility along with a team of Resident Advisor student employees. University Police and HSU facilities staff would provide services.

HSU does not have the ability or interest at this time to purchase the facility. The long-term goal is managing the facility to support students and their academic success.

In addition to partnering with AMCAL on the Village project, HSU is planning for new on-campus housing for first-year students.

The two projects would complement one another, with the new on-campus facility housing just over 400 first-year students. Planning began following a market demand study conducted by external consultants last year, which found a housing need for both first-year and upper-class students. Work on the on-campus project could be completed by Fall 2022.


Read the letter from HSU President Lisa Rossbacher and fact sheet below:
See related PDF