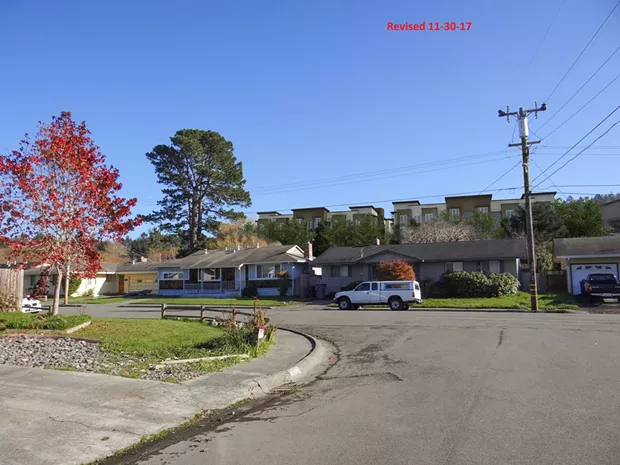 City of Arcata
Conceptual photo illustration of how The Village project would look from the perspective of the Westwood neighborhood.
Humboldt State University will host a town hall meeting Monday to provide information and answer questions about The Village, a large student housing project proposed for Arcata's Craftsman's Mall site, which sits across U.S. Highway 101 from LK Wood Boulevard north of campus.
Last week, the university
announced
that it is working to "finalize a partnership" with AMCAL, the private developer pushing the project, under which the university would manage the complex, which is slated to house 600 students and has met significant pushback from residents of Arcata's Westwood neighborhood, who feel it is a poor fit.
Monday's meeting is slated to run from 5:30 to 7:30 p.m. in the Great Hall in the College Creek Apartments complex on campus. It will feature a presentation from a variety of HSU officials on the project's "operational plan" and time for a question-and-answer period.
Read past coverage of the project
here
and find the full HSU press release copied below.
Media Advisory: HSU Town Hall Meeting on Village Project
On Monday, June 18, Humboldt State University will host a town hall meeting to answer questions about the University's plan to operate the proposed Village Housing facility.
The meeting will be in the Great Hall (College Creek complex) from 5:30 to 7:30 p.m. Community members are invited to attend, and parking will be free for guests. To access parking, turn south from Harpst onto Rossow streets and park in lot G12 (there will be designated reserved parking spaces).
In attendance will be Doug Dawes (HSU Vice President for Administration and Finance), Stephen St. Onge (HSU Director of Housing and Residence Life), Todd Larsen (HSU Associate Director for Business Operations), Chant'e Catt (HSU Student Housing Advocate), and David Moon (Project Developer).
The agenda includes a brief presentation on the operational plan for the Village project by HSU staff and a question and answer period.