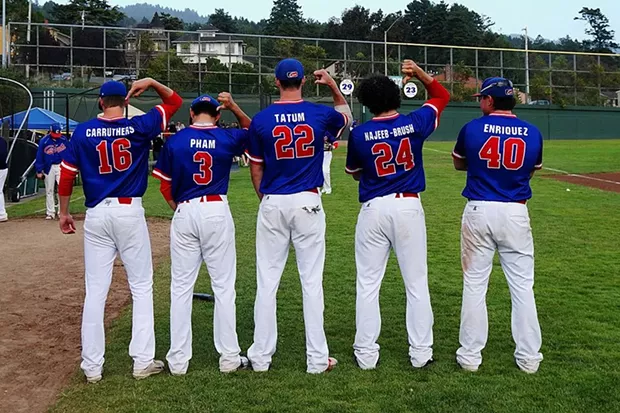 Matt Filar
Crabs players show off their Blue uniforms. Home-run champ of the series, #40 Ramon Enriquez far right.
Attention 101-South drivers: The Crabs have corked their bats and the Samoa exit is no longer safe during game time. Back home from their longest and final road trip of the year, our favorite arthropods pummeled their south bay brethren, the B-52s, in a two-game series.
The Battle of the Safety Corridor commenced Tuesday evening, with the Crab Grass Band in attendance (they typically play Wednesdays) and vociferous hecklers peppered throughout the bleachers (as always). This is the first true series and only the fourth game ever played between these two squads.

Seahawk-green ballcaps stick out in a sea of blue and red, so it's easy to spot the away fans, a rare sight at the Arcata Ballpark. And they were out in good number throughout the bleachers. What surprised me is that they didn't all sit together. Now perhaps that's simple pragmatism, open-seating makes organization difficult. But wouldn't you — 7 miles into enemy territory — seek out like-hatted people? It could be cool to see a B-52 section in future games, even if it backfires spectacularly. Tensions can be high in these games, as the B-52s are a more local team and many parents make the jaunt northward to see their sons take the field and Crabbie hecklers can sometimes delight in the audience.
The Crabs wasted no time putting runs on the board, as first baseman Ramon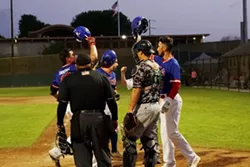 Matt Filar
First baseman Ramon Enriquez celebrates a home run
Enriquez (who went 3-4 on the day and plays with great style, later tossing the ball through his legs into his throwing hand after an easy out) crushed a solo shot into the City Hall parking lot. This would trigger a 14-hit, nine-run avalanche and a decisive victory in which every Crab clocked at least one hit.
In the fourth inning, B-52s first baseman and former Crabs MVP, Jeff Giacomini
lumbered his way into a double on a decisive fly ball to center field. A single
by pitcher/designated hitter (a praiseworthy combo) Tommy Gale pushed Giacomini over to third. With two outs and runners on the corners, a passed ball error saw Giacomini roaring down the third base line and sliding in under the glove to tie the game and give the B-52s their only run of the game.
The game was tied but the Crabs had no intention of leaving it that way. Back-to-back singles by Enriquez and third baseman Chase Larsen put runners on the corners with no outs. A sacrifice fly by O'Boy brought Enriquez home and the lead back to Arcata. 2-1 Crabs.
Two quick innings ensued, but drama wasn't far off. After an easy pop-out to Enriquez, the B-52s loaded the bases on three straight singles. Pitcher Chris Brown, however, wasn't phased and easily struck out the next batter. The B-52s called up a pinch hitter. The Crabs outfield set up deep to track down any potential
extra-base hits. And then the worst happened. Pinch hitter James Garcia looped
a fly ball to mid-left field. But McCarthy Tatum, all but wearing Superman's cape, came screaming in and made a diving catch to save the inning
and the lead. It was — I am not exaggerating here — the most spectacular play
I've ever seen at a Crab's game. If there's a team Golden Glove award, give it to Tatum. If there isn't, make one and give it to him.
Matt Filar
#22 McCarthy Tatum steals second
The bottom of the seventh saw the Crabs pull away. Crabs catcher O'Boy rocked a double to right field, center fielder Kellen Strahm reached on straightaway bunt that pushed O'Boy to third. Former B-52s player Koko Figueiredo was walked to load the bases. A Jackson Kritch walk brought O'Boy home and Tatum followed
up with a sacrifice fly to score Strahm and chalk up the first out of the inning. An infield single by right fielder Connor Blair brought home Figueiredo and Kritch. Blair would be caught stealing second and, after a long at-bat, Larsen popped out to center field to end the inning.
Undeterred by a commanding lead, the Crabs quickly dispatched with the B-52s and came back up to bat. O'Boy got beaned, Strahm singled, Figueiredo walked, Kritch hit a two-run infield single and Tatum hit his second sacrifice fly of the night to drive in the final run. It was three-up, three-up down for the B-52s in the top of the ninth, ending the game on a looking strike three. It was 9-1 Crabs.

Wednesday night's game was a speedy two-and-a-half-hour affair that had more balls hit F Street than land in play. Three Crabs pitchers combined to throw a 9-0 shutout, with starter Zach Wallace throwing seven strong innings, striking out six.
It was also local cannabis-based medicinal company Papa & Barkley's company
party. They rented out the left field recreation area and brought many amenities. Fresh cooked wings, delicious iced tea and cucumber-lemon water, free massages with CBD oil. It looked like a great time and they sponsored the 50-50 drawing.
The Crabs got out the gate even earlier, putting two runs up in the first inning.
Bronson Grubbs drove Strahm home on a double. Tatum singled and brought Grubbs home. The B-52s struggled to get a runner past second base and very few of their innings had more than four batters see the plate. The middle innings
breezed by, neither team able to capitalize on their opportunities. It wasn't until the seventh inning that something happened. And boy did it happen.
Crabs shortstop Santiago Cantu walked on five pitches. Strahm took the plate and
waited out a 3-1 count before seeing a pitch he liked, crushing it over the left field wall and onto the Samoa Boulevard exit. Grubbs got beaned before the crowd had even settled and, whaddaya know, Figueiredo got walked. Tatum grounded into the second out, but that would quickly be forgotten. Ramon Enriquez, the first baseman with flair, hacked away at pitcher Craig Broadman for a while before jacking a three-run homer over the right field wall. The stands erupted, hundreds of ounces of beer were spilled, I almost fell out of the bleachers. Two more runs in the bottom of the eighth was, admittedly, a bit gratuitous — but this isn't tee-ball. Crabs took the game 9-0 and swept the series. Bringing their all-time record against the B-52s to 3-2. Let's get some games at Bomber Field next year.
Upcoming Games
Crabs play at home for the remainder of the season, so look for games Tuesday and Wednesday, and Friday through Sunday. They play the California Expos this weekend June 29-July 1. It's Koozie Night Friday, sponsored by Mad River Brewing Company.
Cheers and Jeers
Cheers to Papa & Barkley, for donating bandanas with their logo. It will certainly be the most confiscated giveaway of the year, when parents go home and look them up.
Jeers to the really drunk, really aggro B-52s fan who couldn't leave the Wednesday night game without flipping the stands the bird and challenging us all to a fight. Worst of all, he heckled Crusty! Your girlfriend looked super embarrassed as you got kicked out. (This brings the total kick-outs on the season to seven.)
A huge, belated Cheers to Liam Warner, for scoring every game and making my job immeasurably easier. I hope Marvin Bagley III works out for your Kings, Liam.

Heckle of the Series
After a particularly unlucky cut by a B-52s batter, someone shouted, "My parents swing better than you!"
Stories, heckles, cheers & jeers, salutations or censures can be sent to sports@northcoastjournal.com
<!———EndFragment———>