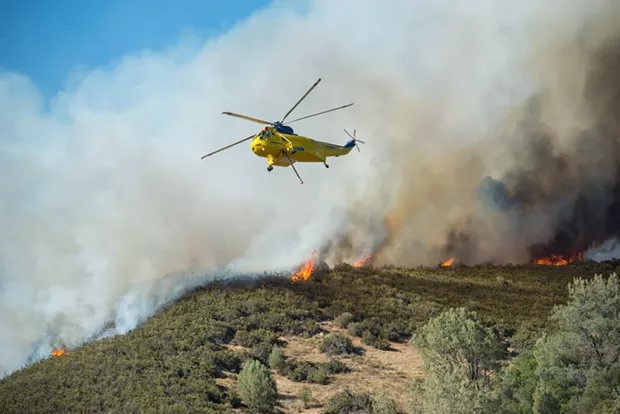 Mark McKenna
A Sikorsky helicopter prepares to refill its water hold to combat the Pawnee Fire earlier this week.
The Pawnee Fire exploded this afternoon and has closed sections of Highway 20 in Lake and Colusa counties, according to Caltrans. The agency's Facebook page states, "SR 20 has been closed from the junction of SR 53 in Lake County to SR 16 in Colusa County. Caltrans will reopen the highway as soon as it is safe, but there is no estimated time right now."
According to a Calfire update at 7 p.m. today, the wildfire stands at 13,850 acres and is 73 percent contained, with full containment expected on July 3. So far, 22 structures have been destroyed, six damaged and another 50 are currently threatened. One firefighter has been injured.
"Due to Red Flag conditions, fire activity has increased," the update states.
There are currently 2,66p fire personnel on scene. Read more about the Humboldt County Strike Team's work on the fire
here
.
The Lake County Sheriff's Office has issued new evacuation warnings and advisories in connection with the blaze that began June 23. The cause remains under investigation.:
This is an advisory evacuation notice for residents South of Highway 20 between Morgan Valley Road and State Highway 16. The Pawnee Fire may expand beyond containment and continue to move South with current weather conditions.
The Lake County Sheriff's Office has ordered a MANDATORY EVACUATION for the Double Eagle Subdivision area due to a flare up in the Pawnee Fire. This notice affects all residents and businesses in areas near the Double Eagle Subdivision. An evacuation center is being set up at the Lower Lake High School. More information will follow as it is received. Per the CHP – Hwy. 20 closed from Hwy. 53 to Hwy. 16.