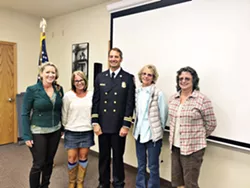 Submitted
Sean Robertson, center, is the new chief of Humboldt Bay Fire.
Humboldt Bay Fire has a new chief. Directors of the district's joint power authority board announced yesterday that Sean Robertson has been appointed to the post, filling a vacancy created by
the resignation of Bill Gillespie in November
.
Robertson has been with the department since August of 1998 and over the past two decades has risen through the ranks from engineer to captain, captain II and finally to battalion chief in June of 2012. He has also served as head of training since 2013.
From the Humboldt Bay Fire JPA:

Humboldt Bay Fire Joint Power's Authority Board of Directors announced today the appointment of Sean Robertson
as the department's new Fire Chief effective August 1, 2018, following a Special Closed Session Board meeting.

Chief Robertson began his career as a firefighter with the Eureka Fire Department in August of 1998. Robertson promoted to Engineer in January of 2002, Fire Captain in June of 2005, Fire Captain II in April of 2011 and then finally to his current position of Battalion Chief, in June of
2012.

Robertson has served as Humboldt Bay Fire's Head of Training division since January of 2013, and has been instrumental in Humboldt Bay Fire's training and operations. He is a certified California State Chief Officer, he served as the President of Humboldt County Fire Instructor's Association, and is currently pursuing his Executive Fire Officer certification through the National Fire Academy.

Humboldt Bay Fire will hold a promotional ceremony recognizing Chief Robertson as well as several other department promotions and new hires in early August. More details will be provided as they come available.