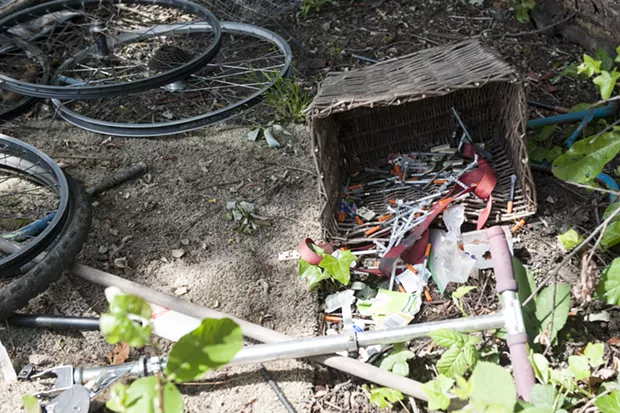 File
Needles discarded in a homeless camp.
The Eureka City Council is scheduled Tuesday to hear a presentation from a local syringe exchange program at
the center of a public backlash against the practice
, which some view as responsible for the needle litter scourge now rampant across the city.
The Humboldt Area Center for Harm Reduction, known as HACHR, also submitted a written report about services the nonprofit provided in 2016 and 2017, including client visits, syringe distribution, partnerships and educational outreach.
The agenda item for the report notes that the city "does not provide funding to support syringe exchange." HACHR was authorized to operate in Eureka by a council resolution in 2016.
The nonprofit's main goal, the report states, is to reduce the negative consequences associated with drug use, including overdoses and the spread of infectious diseases like Hepatitis C — for which Humboldt County rates are five times the state and national average.
The review, which syringe exchange programs are required to provide the public every two years under state law, references HACHR's tenuous standing in the community, stating that it has been the target of a "great hysteria campaign" and that matters of public health "should not be decided by belief, misinformation or uninformed masses."
According to HACHR, the program distributed 240,189 syringes in 2016 and received 193,867 back for a return rate of 80.70 percent, which the report by Executive Director Brandi Wilson describes as a "very normal" level that would be considered "a good return rate" in many places.
"This is not the case in this community," Wilson's report states.
While 2017 numbers were not included, Wilson previously told the
Journal
that between January and May of 2017, 296,083 syringes were given out with 256,176 coming back — a return rate of about 86.5 percent.
A sometimes rancorous crowd turned out at city hall back in March when the council considered a syringe management ordinance, with many calling for a one-to-one exchange ratio for program's like HACHR.
The council passed a version that requires exchange programs to report back to city staff with data on the numbers of syringes given out and referrals made, and to participate in weekly cleanups. Read more
here
and
here
.
HACHR's report for the council on Tuesday also discusses its
distribution of Naloxone
, an opiate overdose-reversal drug, as well as the center's peer outreach, art programs and other education and prevention efforts.
"We hope that through reading this report and the supplemental information
provided that it will lend to furthering the understanding of the operations and policies that drive our program as well as reduce the spread of deadly misinformation," the report states.
The 6 p.m. meeting taking place at city hall, 531 K St., also has the council considering an agreement with the Crescent City-based law firm of Black and Rice for a period not to exceed six months following the abrupt resignation of former City Attorney Cyndy Day-Wilson last month.
Read more about Day-Wilson's tumultuous tenure with the city, which came to a $165,000 end on June 26, in this week's cover story "
Long Overdue
."
The HACHR report is included below:
See related PDF