Matt filar
Crabs Hall of Fame Class of 2018 inductees
Any time the Pacific Union Financial Capitalists (generally called the Puf Caps, which always makes me think of Kirby, the video game character) we're bound to see some good baseball. Funded by a Texas businessman, the Caps are a nationwide team of plucky youngsters all on their way to Division I programs on scholarship in the fall. Despite their storied reputation, the Caps arrived to Arcata Ballpark on alumni weekend 11-11, an even .500 on the year.
Friday was 50s night and the Crabs Queens were dolled up as Pink Ladies and a choice few folks in the stands dressed to theme, as well (though that could just be their everyday attire, you never know in Arcata). Crabs pitcher Dylan Campbell's mother, Renee, threw a dart right down the middle for the first pitch of the game, and was lauded from the stands. I'd like to see what she could do if given a couple of innings.
matt filar
Crabs celebrate one of eight runs on Friday
The game got out to a rousing start, as the Caps got put down in order. In the Crabs' half of the inning, center fielder Kellen Strahm lined one right at the pitcher who batted it down and heaved it to first, but not before Strahm, who dove headfirst into the bag, safe by a hair. Scorching hot designated hitter Koko Figueiredo ripped a double to right field and scored Strahm. Next up, McCarthy Tatum (at third base today, guy moves around more than Steppe nomads) crushed a huge shot only to have it pushed down by the marine layer into the center fielder's glove after an exceptional chase down. 1-0 Crabs.
Crabs starting pitcher Zach Wallace was superb Friday night, as he has been all season, going eight innings and only allowing five hits while racking up 10 strikeouts with zero walks. The Puf Caps only managed multiple hits in an inning once.
Our boys, on the other hand, kept their feett on the throttle and came out with a four-run second inning. Right fielder Connor Blair, second baseman Jackson Kritch and catcher Johnny Mendoza started things off with back-to-back-to-back singles, Mendoza adding a RBI to his stat sheet. Shortstop Wesley Ghan-Gibson kept the streak alive with a two-run double into right field. A Tatum single would bring him home two outs later. 5-0 Crabs.
matt filar
Johnny Mendoza practices his short game
There were 61 foul balls hit during the course of the game and, shockingly, if memory serves, not a single windshield suffered an ill fate. A car hood took a beating as it drove past the fire station and swerved into the other lane, and a couple of pedestrians also almost got clocked. Why do people put their head down when someone shouts "HEADS UP!" at them? Doesn't make any sense to me. Oh! And in the third inning or so, a passing RTS bus took a shot to the driver's-side window, and the driver stuck his head out and playfully "shook his fist" at the onlooking crowd.
When the Crabs weren't hitting, an inning took maybe 15 minutes. In the time it takes to get a burger and a beer, it was the bottom of the fifth, the Crabs had
runners in scoring position, and had put a sixth run on the board. Strahm stepped up to the plate and took a looking strike as Jackson Kritch stole third. He fought his way from 0-2 to 2-2 before he ripped a groundball to short and scored Kritch. 7-0 Crabs.
Sensing some urgency, the Puf Caps responded with their only multi-hit inning of the game and began to put some pressure on the Crabs defense. But it was a moot point. The Crabs would score their eighth and final run in the seventh and walked away with their 14th win in a row. Crabs 8, Puf Caps 0.
Saturday's game could not have been more different. It was alumni day and fireworks night at the park and the joint was packed, to the tune of 1,385 people.
Matt filar
Crabs Hall of Fame trophy
Every year, the Crabs invite former players to return to their collegiate summer home to see the new team, hit batting practice, and, for some, get inducted into the Crabs Hall of Fame. Inducted this year were: Jim "Spider" Thomas, Troy Schrader, Lee Iorg, Jack Fimple, Pat Clements, Ugo Giuntini, Bob Milano, Leo Rosales, John Austin and the entire 1990 Crabs team. Inductees received a commemorative ornament that looked a lot like a geode. I don't know how else to describe it, but they were beautiful. The 1990 team got a commemorative team photo.
Despite a leadoff triple from the Caps, the Crabs got out to a 5-0 lead in the first two innings.
The Puf Caps responded with a six-run third inning, batting through the order before being put away. And then, sandbaggers that they are, they really started to put the hurt on. The Crabs would only manage one more hit for the entire game (five total), while the Caps would score five more runs en route to an 11-5 victory. They even had the unmitigated gall to hit a gratuitous two-run homer in the top of the ninth.
The Crab Grass Band had one of their best showings of the season, filling up over a third of of the first baseline bleachers and playing with such gusto one almost forgot what was happening on the field. They launched into "Elvira" (a personal favorite of mine) shortly after the game ended and the park managers, eager to wash clean the bitter taste of a crushing defeat, dimmed the lights before the band finished. Undeterred, they played sightless and finished the song.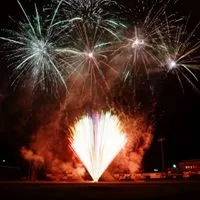 matt filar
FIREWORKS!
I've never sat that close to a fireworks show before and it's quite a sight. Swirling flames of blue and orange and red and white crashing down toward you only to burn out well above your head is breathtaking. The audience thought the show was coming to a close three or four times, only for the display to come roaring back more dazzling and big than before. A launcher tipped over at one point, pouring fireworks directly onto the field for a short moment before it was righted.
It felt a little strange to celebrate a trouncing with such a spectacle, but it's not as though we could have ensured a victory or just done the show another day. (I tried bribing the Capitalist manager, but he declined — citing something he called "integrity.")
There are many unwritten rules in baseball but my least favorite is that, "In a three game series where the first two are high-scoring blowouts, the final game must be a protracted, grueling affair."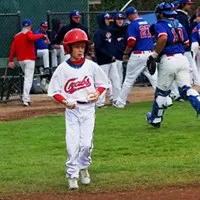 matt filar
Bat Boy hard at work
It seemed like most fans got their jollies out Saturday night; it wasn't until the third inning that there were more than 200 people in the stands on Sunday. The band, too, was rocking a skeleton crew.
Crabs starter Andrew Najeed-Brush had perhaps his best outing of the season, allowing two runs and striking out 13 filthy Capitalists in six and two-thirds innings. He was aided by an early lead. Indeed, the Crabs led for seven innings. But the Caps would emerge victorious after crawling back and tying the game in the top of the eighth inning. Of course, they wouldn't win until the 14th inning, and in dramatic fashion.
With two outs in the top of the 14th, a Cap stole second. Eight pitches later, he came chugging around third and outran a grounder to the shortstop and gave them a 5-4 lead. The Crabs responded in kind, loading the bases in their half through a double and two walks. But, like a 2, 7 offsuit in a round of Texas Hold 'Em, it just wasn't in the cards for our boys. A questionable call on a looking strike three sat the Crabs down and handed them their first series defeat since the Crabs went down to Healdsburg.
Crabs are 24-8 and looking to start a new win streak.
Upcoming Games
Tonight, our neighbors the Redding Colt 45s are in town and the Ventura County Pirates are sailing in this weekend for a three-game series.
Cheers and Jeers
Cheers to the Puf Caps for playing some great, fun baseball. Best of luck to all the youngsters.
Jeers to the woman on Friday night who objected to the crowd chanting "touch his butt!" If butt touching makes you uncomfortable, baseball is not the sport for you. Also, the third base bleachers are much quieter.
Cheers to the RTS bus driver who "shook his fist" at us, that was the funniest thing I've ever seen at a game.
Jeers to the ladies on Sunday harping about how they weren't served beer in the seventh inning. It's past last call. A guy walks by with a big sign and gets roundly booed. What do you think last call means?
Cheers to the fireworks crew for putting on such a great show!
Heckle of the Series
Cribbing The Commodores and getting people to sing "He's a BIG! HOUSE!" at a dude named Casagrande is inspired.
<!———EndFragment———>