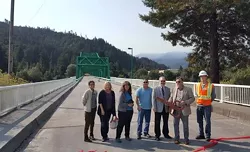 City of Rio Dell
The Eagle Prairie Bridge reopened this morning.
The Eagle Prairie Bridge that connects Rio Dell and Scotia reopened today just in time for Wildwood Days after a four-month closure for repainting.
As detailed in the July 5
North Coast Journal cover story
"Just Across the Bridge," the shut down pushed many Rio Dell businesses to the brink at the height of the tourist season and caught many owners off-guard after they received a scant two-weeks of notice about the work from Caltrans.
"I walked out of my door and it was like a nuclear bomb had gone off," Adam Dias, who founded the Eagle Prairie Arts District and runs a custom wood gallery on Main Street, told the
Journal
. "There was nobody on the street, no traffic."
The opening comes earlier than expected and coincides with the opening day of Rio Dell's Wildwood Days event. Read more about the weekend of festivities
here
.
Press release from the city of Rio Dell:
Eagle Prairie Bridge, also known as SR 283, reopened to traffic on the morning of Friday August 3rd. The bridge which is owned and maintained by CalTrans was closed in March of 2018 for a repainting of the structure and resurfacing of the bridge deck. Two‐way traffic is currently allowed and lane striping will occur on Monday August 6th to finish the project. The occasion was celebrated with a ribbon cutting ceremony held by the Chamber of Commerce. The reopening comes just in time for the Wildwood Days Festival, the annual event organized by the Rio Dell Volunteer Fire Department held August 3rd through the 5th.