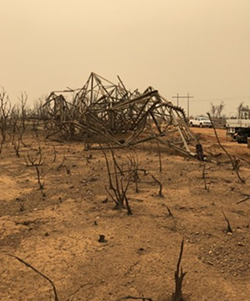 Calfire/NWS
Aftermath of the Carr Fire "fire whirl."
A fire whirl — similar to a tornado — that occurred in the Carr Fire near Redding on July 26 had maximum winds in excess of 143 mph, according to an initial analysis by the National Weather Service and Calfire.
The column of fire produced by "intense rising heat and turbulent winds" was equivalent to an F3 tornado and left a path of destruction — completely stripping bark off of trees, uprooting some others and collapsing power line towers, according to the National Weather Service.
"A fire that is burning very hot develops its own weather by drawing in winds that exceed ambient weather conditions," the National Weather Service wrote in a tweet. "When the winds are strong enough and the fire is hot enough, sometimes, the rising air columns start to rotate."
In an interview with the
Associated Press
, NWS meteorologist Duane Dykema said the phenomenon was on par with some of the most destructive Midwest tornadoes.
For up-to-date fire information, including evacuations and road closures, visit
www.fire.ca.gov/current_incidents
.
At a Glance: Aug. 3 (morning) Fire Summaries from CalFire and the Mendocino National Forest
Carr Fire
County: Shasta and Trinity
Location: State Highway 299 and Carr Powerhouse Road, Whiskeytown
Acres burned: 131,896
Containment: 39 percent
Residential Structures destroyed: 1,067
Commercial Structures destroyed: 19
Structures threatened: 1,358
Start date: July 23
River Fire:
County: Mendocino and Lake
Location: Old River Rd, near Mile Marker Post 7.9, Hopland
Acres burned: 41,512
Containment: 50 percent
Residential structures destroyed: 41
Other structures destroyed: 47
Structures threatened: 9,200
Start date: July 27
Ranch Fire:
County: Mendocino
Location: Off Highway 20 near Potter Valley, northeast of Ukiah
Acres burned: 112,226
Containment: 28 percent
Residential structures destroyed: 41
Other structures destroyed: 47
Structures threatened: 9,200
Start date: July 27
Eel Fire:
County: Mendocino
Location: 10 miles east of Covelo
Acres burned: 1,000
Containment: 25 percent
Residential structures destroyed: Unavailable
Commercial Structures destroyed: Unavailable
Structures threatened: 10
Start date: July 31