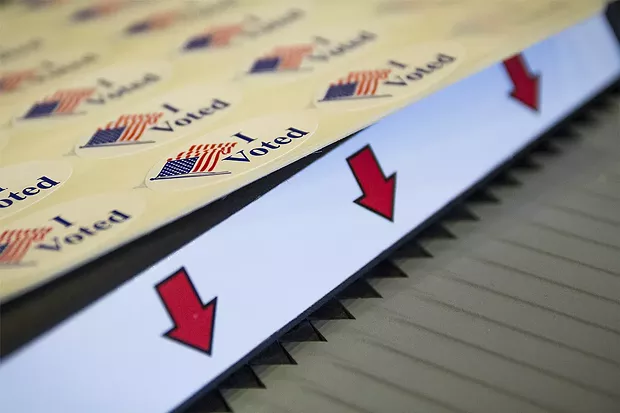 File
Candidates, it's time to turn in those nomination papers.
Time is running out for candidates to file their nomination papers to run for council and mayor in cities across Humboldt County — the exception being Ferndale, which closed its nomination period today. All others have deadlines tomorrow. That is unless an incumbent does not seek a return to office, in which case the filing periods are extended to Aug. 15.
Qualifications vary a bit depending on the city, so it's best to check in with your respective city clerk for all the details. Here's a rundown of which seats are open:
Arcata
Mayor Sofia Pereira and Vice-Mayor Brett Watson's terms are set to expire in November and hopefuls for a council seat have until 5 p.m. Friday to drop-off their nomination papers. For more information, visit the city clerks' office at 736 F St., call 822-5953 or email BDory@CityofArcata.org.
Blue Lake
For folks interested in performing their civic duty here, nomination papers need to be in by 4 p.m. for the two open positions, one of which is currently vacant and the other now held by Councilmember Elizabeth Mackay. For more information, contact the city clerk's office at 111 Greenwood, call 668-5655 or email cityclerk@bluelake.ca.gov. The office is closed from noon to 1 p.m.
Eureka
Major changes are coming to elections in Humboldt's largest city this November, when residents will only be able to vote for the candidates vying for a seat to represent their specific ward. Four seats are up for grabs, including Mayor Frank Jager's post (which is still elected citywide) and council seats representing Wards 1, 3 and 5, which are currently represented by Marian Brady, Kim Bergel and Natalie Arroyo, respectively.
Nomination papers are due by 5 p.m. For more information, contact the city clerk's office at 531 K St. (second floor), call 441-4175 or email cityclerk@ci.eureka.ca.gov.
Read previous
Journal
coverage of Eureka's switch to a "true ward" system
here
,
here
and
here
.
Ferndale
Mayor Don Hindley's post, which is for two years, and three seats on the council are up for election in the Victorian Village. Two of the council seats are four-year terms and one is for two years, now held by Michael Sweeney, Doug Brower and Jennifer Fisk-Becker, respectively. Because Ferndale's City Hall is closed tomorrow, the nomination period ended today, unless the incumbent rule kicks in.
Fortuna
The seats of councilmembers Sue Long, Tiara Brown and Doug Strehl are up for election in November. The Friendly City is accepting nomination papers until 5 p.m. on Friday. For more information, contact the city clerk's office at 621 11th St., call 725-1409 or email semmons@ci.fortuna.ca.us.
Rio Dell
To serve in one of three seats on the ballot this year, nomination papers are due at 5 p.m. Councilmembers Debra Garnes, Tim Marks and Mayor Pro Tem Gordon Johnson will see their terms expire at the end of 2018. For more information, visit city hall at 675 Wildwood Ave., call 764‐3532 or email dunhamk@cityofriodell.ca.gov.
Trinidad
Last but not least, the fishing village to the north has three seats — currently held by Mayor Susan Rotwein, Dwight Miller and Jim Baker — up for election. While the deadline to file nomination papers here is also Friday, the documents need to be in by 2 p.m. For more information, visit 409 Trinity St., call 677-0223 or email cityclerk@trinidad.ca.gov.