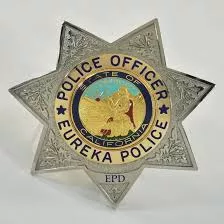 Two people were arrested this morning in connection with the death of a young man who was fatally stabbed in Ocean View Cemetery last night, the Eureka Police Department reports.
Lorna Jean Leen, 38, and an unidentified juvenile male were taken custody without incident after being located at two separate locations around the 1300 block of Bayshore Way. Police found Leen at a campsite at about 7 a.m. and the juvenile in a nearby car.
According to an EPD release, officers responded to a report of a stabbing at the cemetery about 9 p.m. and found a male juvenile dead. Leen and the other male juvenile were identified as suspects during the ensuing investigation and homicide warrants were issued for their arrests.
Both were taken into custody on the warrants with bail amounts of $1 million, according to the release.
Release from the EPD:
On August 9, 2018, at about 9:07 PM, officers of the Eureka Police Department (EPD) responded to the Ocean View Cemetery for the report of a possible stabbing.

Upon arrival, officers located a deceased male juvenile with a stab wound. Officers secured the scene and began searching the area for witnesses and possible suspects. Detectives were also summoned.

As a result of the investigation, the suspects were soon identified as Lorna Jean Leen (38 years old) and a male juvenile. Arrest warrants for homicide were obtained for both suspects and the warrants were entered into the statewide system. The bail amount issued on each warrant was $1,000,000.

On August 10, 2018, at about 7:10 AM, officers located Leen at a campsite near the 1300 block of Bayshore Way. She was taken into custody without incident. The male suspect was located in a vehicle, near Leen's location, and was also taken into custody without incident.

Both Leen and the male suspect were booked on their active arrest warrants. Leen was transported to the Humboldt County Correctional Facility and the juvenile was transported to the Humboldt County Juvenile Hall.

This is an ongoing investigation and further details will be released as they become available. Anyone with information about this investigation is urged to contact Detective Sergeant Shawn Sopoaga at 707-832-5108.