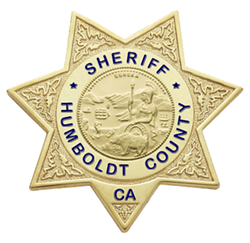 The Humboldt County Sheriff's Office confirmed an investigation into a possible double homicide in Southern Humboldt after two bodies were discovered in a burning vehicle last night.
"We are investigating two suspicious deaths in the area of Ettersburg Junction. We are still on the scene actively investigating the incident," HCSO spokesperson Samantha Karges said. "At this time, we are not expecting to release more details, but I expect to have more information made available to the public later today."
The Humboldt County Sheriff's Office stated in a release this afternoon that more information is expected to be released after the autopsies, which were still being scheduled, are completed.
Sgt Samuel Williams confirmed earlier this morning that two bodies found in Southern Humboldt. He said that his department had received a call from the California Highway Patrol and from Cal Fire to "assist with a vehicle fire near the Ettersburg and Briceland Road Junction."
County Supervisor Estelle Fennell posted on the SoHum Awareness Facebook page about coming across the burning vehicle on Shelter Cove Road just west of the Ettersburg Junction, saying she heard "several explosions."
"Vehicle fire on Shelter Cove Road just west of the Ettersburg Jct. .... Scary...especially in these tinder dry conditions...several explosions as I drove by!! ...had to drive to Whitethorn Construction area to find a neighbor with a landline to call it in," the post reads.
According to Telegraph Ridge Fire Department Chief Peter Lawsky, he was one of the first on the scene about a quarter mile west of the Junction. One of his firefighters had seen the vehicle fire and called it in. He said they were worried that the flames could spread but didn't know about the bodies yet.
"A burning vehicle can easily turn into a forest fire," he said. "I used the hose I had to knock it down and keep it from spreading to the vegetation. … It took a long time to put it out."
He said later he was told "there are two bodies in the back."
Lawsky also said that one of his firefighters told him that the vehicle was not in that turnout about 5 p.m.
Today, Lawsky is worried about his crew members. "I'll be calling some of my firefighters today and see how they're doing this morning," he said.
Press release from the HCSO:
On August 14, 2018, at about 9:10 p.m., Humboldt County Sheriff's deputies were dispatched to assist the California Highway Patrol and Cal Fire with a vehicle fire on Briceland Rd. near the Ettersburg Junction. Fire personnel informed deputies that they were extinguishing the fire when they located two decedents inside the vehicle. This incident is under investigation by the Humboldt County Sheriff's Office Criminal Investigations Division and is currently considered a suspicious death. This is an ongoing investigation. The Humboldt County Sheriff's Office anticipates more information to be released following the completion of the two decedents' autopsies. Autopsy dates for both subjects are in the process of being scheduled. Anyone with information about this case or related criminal activity is encouraged to call the Sheriff's Office at (707) 445-7251 or the Sheriff's Office Crime Tip line at (707) 268-2539.
Editor's note: This report first appeared on www.kymkemp.com and is reposted here with permission