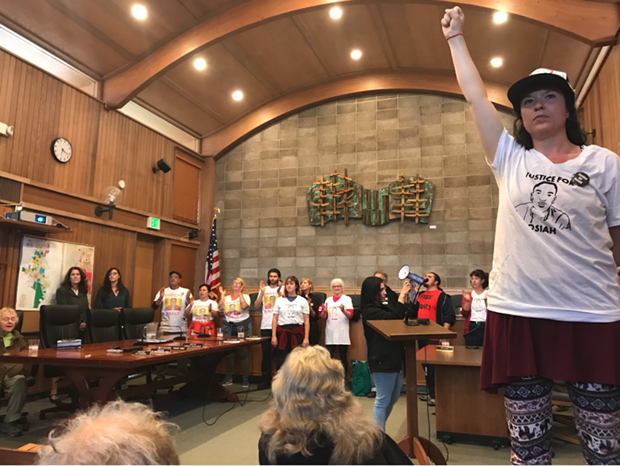 Photo by Ryan Hutson
Protestors disrupt Wednesday's Arcata City Council meeting.
Wednesday's Arcata City Council meeting was rescheduled for 6 p.m. Thursday after protesters demanding movement on an investigation into the fatal stabbing of Humboldt State University student David Josiah Lawson took over the council chambers.
Video footage from local media outlets showed the group lined up along the aisles of the room and in front of the council's dais while clapping and chanting, "Justice for Josiah, now" and "Bring Tom Parker back."
Both Parker and Josiah Lawson's mother Charmaine Lawson spoke to the crowd via phone, according to a reporter at city hall. Protesters were vowing to stay until Arcata agreed to bring Parker back.
Parker, a retired FBI agent who had been assisting the Arcata Police Department with the case pro bono, resigned in April, saying the department was not following his recommendations and he believed investigators were withholding information from him. Then Arcata Police Chief Tom Chapman abruptly stepped down less than 24-hours later.
At the time, City Manager Karen Diemer didn't dispute Parker's contentions about detectives withholding information but said the lack of trust had developed after a confidentiality breach.
Lawson, a 19-year-old sophomore, died April 15, 2017, after being stabbed at an off-campus party.
Editor's note: A version of this report first appeared on www.kymkemp.com and is reposted here with permission