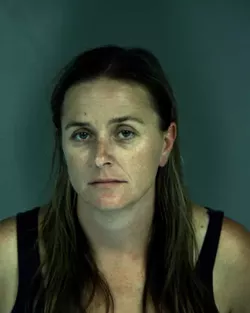 Marcia Kitchen's booking photo.
UPDATE:
Judge Kaleb Cockrum today set a change of plea hearing for Monday with Marci Kitchen expected to enter guilty pleas to the full set of charges she is facing.
Her defense attorney presented the court with a nine-page "white form" plea form. Deputy District Attorney Stacey Eads stated after the hearing that no plea deal had been offered.
Kitchen stands charged with two counts of vehicular manslaughter, one count of DUI causing injury and one count of hit and run causing death, as well as some special allegations.
A full story on today's hearing will be posted shortly.
PREVIOUSLY:
Marci Kitchen is expected to make a plea deal by Monday afternoon, according to the father of one of the victims. A Humboldt County courtroom has been scheduled this afternoon at 3 p.m. for Kitchen's case.
Kitchen was charged with the hit-and-run deaths of her daughter, Kiya, and another 14-year-old, Faith Tsarnas. A vehicle struck the two girls on July 12, 2016. Kitchen is alleged to have been intoxicated and driving the vehicle at the time.
Joe Kitchen, Marci's ex-husband and father to Kiya, said he was contacted by a victim advocate on Thursday and told that Kitchen was pleading guilty.
According to another source close to the family, Marci has agreed to plead guilty to all the charges against her. Joe Kitchen and his son Jevin, who was set to be a witness for the prosecution, plan to be at this afternoon's meeting at the courthouse.
Editor's note: This report first appeared on www.kymkemp.com and is reposted here with permission.