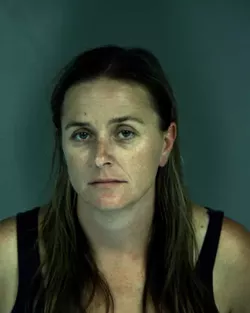 Marci Kitchen's booking photo.
Just weeks before her trial was set to begin, Marci Kitchen stood in front of Judge Kaleb Cockrum today and pleaded guilty to all the charges she was facing for fatally hitting two teenage girls, including her daughter, while
driving drunk then fleeing the scene
in 2016.
Wearing a black and white brocade dress with a suit jacket, Kitchen spent the proceedings with her hands clasp in front of her, appearing at times to hold back tears. She quietly answered Cockrum's questions about whether she understood the implications of pleading guilty to vehicular manslaughter and DUI causing injury, along with the special allegations that she caused the girls' deaths and fled the scene.
Kiya Kitchen and her friend Faith Tsarnas were both 14 when they were struck from behind while skateboarding on Eel River Drive on July 12, 2016. Tsarnas died at the Fortuna crash site and Kiya Kitchen's death followed a day later at a Bay Area hospital.
The judge explained that Kitchen's decision was predicated on him sentencing her to the mid-term cap of two years for the principle charge, but it was unclear if he was referring to vehicular manslaughter or DUI causing injury.
Cockrum noted that Kitchen's maximum exposure in the case was a "point of contention," with the defense asserting it was 10 years and four months and the prosecution placing the total at 11 years.
He said that he will consider the probation report, the stance of the district attorney's office and input from family and friends of the defendant and the victims in making his final decision at her Sept. 18 sentencing.
"If I do consider the four-year high term, I will give you your plea back," Cockrum told Kitchen, which means the case would once again head to trial.
The judge also declined Deputy District Attorney Stacey Eads' request to have Kitchen immediately taken into custody without bail pending sentencing. Eads cited Kitchen's role in the "tragic deaths of two young girls" and her efforts "to cover up the crime," as well as the potential she could flee.
Attorney Heidi Holmquist-Wells, representing Kiya Kitchen's father Joe Kitchen and her brother, also asked for Marci Kitchen to be taken into custody, noting that she has essentially been convicted and that 770 days have passed since the girls were killed.
"The only logical decision is to remand her into custody," Holmquist-Wells said.
Kitchen's attorney, Deputy Conflict Counsel Meagan O'Connell, argued against custody, saying her client has abided by "every bail condition" and has had periods of travel from which she "returned as planned."
Cockrum set a Sept. 4 custody hearing on the matter.
News of the plea came
last Friday
at a previously scheduled hearing called to discuss potential jury questions, although Joe Kitchen told local blogger
Kym Kemp
that he had been notified the day before.
At that time, O'Connell, turned in a filled-out plea form to Cockrum, who then set today's hearing, saying he wanted Marci Kitchen to be present.
Eads made clear Monday that the mid-term cap was not an offer from her office, as she had about Kitchen's plea decision after Friday's hearing when she stated: "She's pleading as charged. The people have offered nothing."

Editor's note: This story has been updated from a previous version to include additional information about today's hearing.