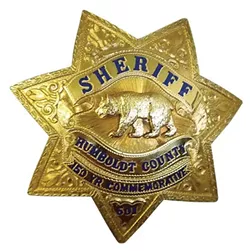 UPDATE:
A man has been detained for questioning by Chico Police in connection with the bodies of two people found in a car fire on Briceland Road, confirms Samantha Karges, spokesperson for the Humboldt County Sheriff's Office. Earlier today, deputies were at a property in China Creek west of Redway collecting evidence in the investigation.
Officers are investigating his possible connection with their deaths. According to Karges, no arrest has been made at this time.
PREVIOUSLY:
The Humboldt County Sheriff's Office is raiding a property in China Creek west of Redway this morning looking for the suspect in two deaths believed to have been a double homicide. Chico police are coordinating with the sheriff's office and serving a search warrant in that area, also.
The bodies, reportedly those of a local man and woman, were discovered by firefighters putting out a vehicle fire on Briceland Road near the Ettersburg Junction on Aug. 14. The names of the victims have not yet been released.
Sheriff's Lt. Brian Quenell confirmed they are on scene in China Creek and collecting evidence. We will update as more information comes in.
Editor's note: This report first appeared on www.kymkemp.com and is reposted here with permission.