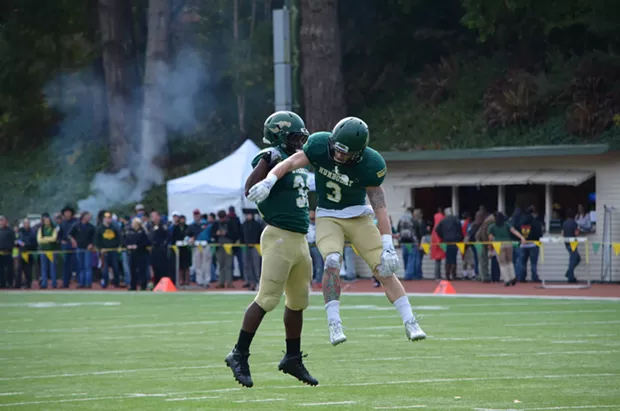 File
Wide receiver Chase Krivashei and tailback Ja'Quan Gardner celebrate a touchdown in 2015.
Former Humboldt State running back Ja'Quan Gardner today signed a three-year contract with the 49ers, according to the team.
Gardner made his mark as a Lumberjack, appearing in 42 games in which he broke campus records and was
an integral part of the 2015-2016 football team
that saw HSU rack up its first post-season win since 1968.
The 23-year-old Ceres native — who was named the Northwest Athletic Conference's offensive player of the year in 2015 — will wear number 38.
Read the release from the San Francisco 49ers below:
The San Francisco 49ers announced on Tuesday that they have signed running back Ja'Quan Gardner to a three-year deal and waived safety Chanceller James.

A 23-year-old native of Ceres, CA, Gardner (5-7, 205) attended Humboldt State University. In four years with the Lumberjacks (2014-17), he appeared in 42 games and registered 880 carries for 5,495 yards and 72 touchdowns on the ground. He also added 81 receptions for 767 yards and four touchdown. As a senior in 2017, he finished the season with 206 carries for 1,322 yards and 21 touchdowns while adding 20 receptions for 212 yards and two touchdowns.

Gardner will wear number 38.

James (6-2, 208) originally signed with the team as an undrafted rookie free agent on May 8, 2017. He was placed on the Injured Reserve List on August 15, 2017, where he spent the entire season. James attended Boise State University where he appeared in 35 games (24 starts) and registered 171 tackles, 10.5 tackles for loss, four interceptions, 3.0 sacks, seven passes defensed and one fumble recovery.