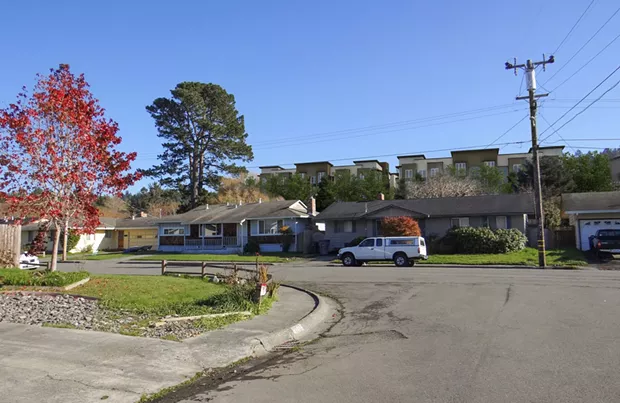 City of Arcata
Conceptual photo illustration of how The Village project would look from the perspective of the Westwood neighborhood.
A special 9 a.m. meeting is scheduled Wednesday for the Arcata City Council to consider the approval of a controversial off-campus student housing project known as The Village.
The proposed 600-bed facility is supported by Humboldt State University but has drawn opposition from local residents who have voiced concerns about noise, traffic and other impacts from placing so many students in a development on a 10-acre parcel just over the bridge from LK Wood Boulevard.
The now downsized proposal includes two three-story buildings and three two-story buildings with a total of 152 units.
According to the city staff report, the project appeared in July to be headed for a tie vote of the council, which is the same as a denial, when councilmembers Susan Ornelas and Brett Watson "provided conditions on the project they felt they would support."
Among those conditions was providing a mixture of units for families and opening up the housing for non-students, which "neither the applicant nor HSU is amenable" to, the staff report states.
"The Council should review the outstanding issues related to conditions on the project, including whether the project includes a family and/or non-student component, and provide direction whether to move forward with consideration for approval or not," the report states.
This will be the sixth time the agenda item has come before the council.
Read the full staff report and accompanying documents
here
.