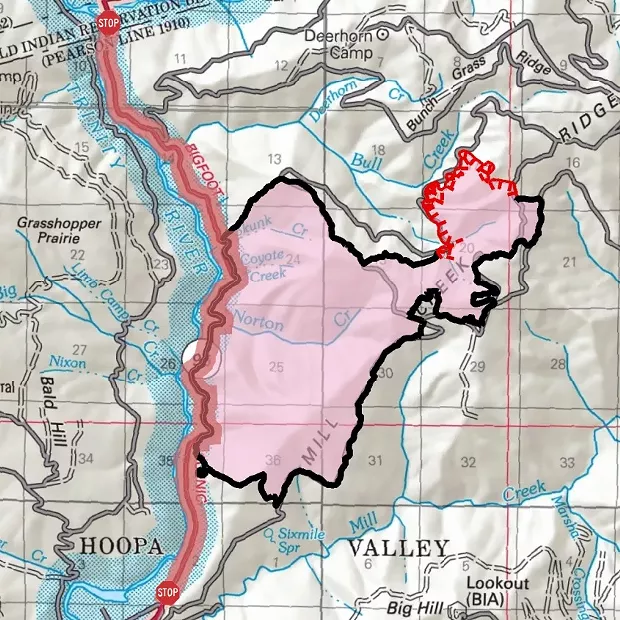 UPDATE:
Caltrans and the Hoopa Fire Department and Office of Emergency Services are reporting that State Route 96 is now reopen, more than an hour before schedule.
PREVIOUSLY:
Officials are asking travelers to use caution while driving on State Route 96 after its slated reopening today around 3 p.m.
The noon pilot car that escorts drivers on the stretch between Hoopa and Weitchpec has been canceled to allow firefighters to remove hoses used to fight the Mill Creek Fire in the area.
According to a morning report, the arson-caused blaze remains steady at around 3,700 acres and is now 79 percent contained.
"The activity on the fire has decreased and moved into a neighboring watershed, which has reduced the smoke impacts in the upper Hoopa Valley," the post states. "Fire activity is expected to be minimal going forward, so air quality is expected continue to improve over the coming days."
Orleans and Weitchpec are expected to have "moderate" air quality while Bald Hill, Hoopa and Willow Creek remain designated as "unhealthy for sensitive groups. "
Read the release from the Mill Creek Fire Interagency Management Team below:
FIRE UPDATE - OPERATIONS: The fire is now 79% contained. In the yet uncontained northeastern section, crews are working hard to secure the perimeter, improve containment lines and mop-up. In the south and southwestern areas, fire crews and engines will be working to ensure that any remaining hotspots are put out. Along the western perimeter, consisting of Highway 96, resources will patrol and extinguish any rolling debris falling onto the highway. Rehabilitation of fire lines, hose and other equipment retrieval is already in progress. In the coming days, resources no longer needed for the fire will be reassigned to support other fires throughout the nation or return home to prepare for their next assignment.

HIGHWAY 96: California State Highway 96 is closed from Bull Creek to Mill Creek due to fire behavior. Traffic is being redirected through Dowd Road. Today August 28, 2018 a pilot car will be provided to assist the public at 7:00 a.m. There will not be a 12:00 (noon) opening of Highway 96. At 3:00 p.m. the road will open to traffic. The public should be aware that fire personnel may still be in this area working in and near the highway.

WEATHER: Today the area around the fire will see temperatures climb into the 80s with lows in the 50s tonight. Relative humidity will drop to around 30% this afternoon. North to Northeast winds can be expected in the overnight and morning hours with West to Northwest winds in the afternoon and evening hours.

Air Quality: This is the last forecast under the title "Hoopa Valley – Eureka Area." These forecast locations will be moved to "NW California" starting tomorrow. You can get your update by going to:https://wildlandfiresmoke.net/outlooks/NWCalifornia.

Attention - The Mill Creek 1 Fire was caused by arson on Tribal lands near Hoopa, California. There is a $10,000 reward offered for information regarding the fire. Calls will be taken on an anonymous hotline by calling 1-800-468-4402.

ADDITIONAL INFORMATION: Hoopa Fire Department and Office of Emergency Services Facebook Page at: https://www.facebook.com/HoopaOES/ or check fire updates for Mill Creek 1, and throughout the country on Inciweb at: https://inciweb.nwcg.gov/incident/6161/.