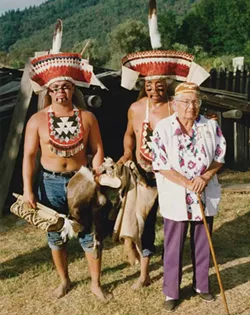 Photo courtesy Merv George Jr.
L to R: Merv George Jr., his father, Merv George Sr., and his grandmother Winnie George, after a jump dance ceremony in the early 1990s.
Merv George Sr. — Hoopa tribal member, religious dance leader and popular musician — died yesterday afternoon after suffering a severe stroke earlier in the week. He was 74.
According to a post on Merv George Jr.'s Facebook page, his father was being transported home from Redding Mercy Hospital when he died. "He had my mom by his side and he went peacefully," George Jr. wrote, adding that "he waited until we got near Weaverville and could see the Trinity River before he left us."
While George Sr. was perhaps best known locally as the front man for the popular Merv George Band, which plays funk, rock and country music with George Jr. backing his dad on drums, he was also a religious dance and ceremonial leader for the Hoopa Tribe and keeper of regalia. George Sr. — along with wife Laura, daughter Melodie, George Jr., and his wife Wendy — was also
consulted as a curator
when the Smithsonian Institution opened the National Museum of the American Indian in 2004 and included an exhibit on the Hupa people and culture.
George Sr. also worked in Eureka's Public Works Department for 30 years before retiring as a maintenance supervisor in 1998.
The short Facebook post from George Jr. thanks family and friends for the "thoughts and prayers" offered "over these past few difficult days."
"Dad was a true warrior and fought all the way till the end," he wrote. "I have no doubt your love and strength provided him extra strength."
George Jr. said the family is planning a private graveside ceremony for his father but will host a public celebration of his life later this fall, possibly on Oct .21, George Sr.'s birthday.
Find a video of the Merv George Band in action below: