Photo by Mark McKenna
Protesters gathered on the Arcata Plaza in support of Christine Blasey Ford.
Some 40 people gathered at the Arcata Plaza today to show their support for Christine Blasey Ford, who testified before the Senate Judiciary Committee this morning about a high school party during which she says she was sexually assaulted by U.S. Supreme Court nominee Brett Kavanaugh.
There was also a minute of silence at the We #BelieveChristine and All Survivors noon rally to show solidarity with Ford and all those who have experienced sexual violence, often bearing the burden alone.
Some who attended carrying signs reading "Thank you, Dr. Ford" and "I Believe you Dr. Blasey Ford, Just as I Still Believe Dr. Hill," while others held up their hands with the words "I Believe" written across the palms. See photographer Mark McKenna's slideshow of the We #BelieveChristine and All Survivors gathering below.
Congressman Jared Huffman and 65 other Democratic representatives
sent a letter
to Senate Majority Leader Mitch McConnell today calling for Kavanaugh's confirmation proceedings to be postponed. The current Washington, D.C., circuit court judge has denied Ford's allegations and others that have since surfaced. He also testified today.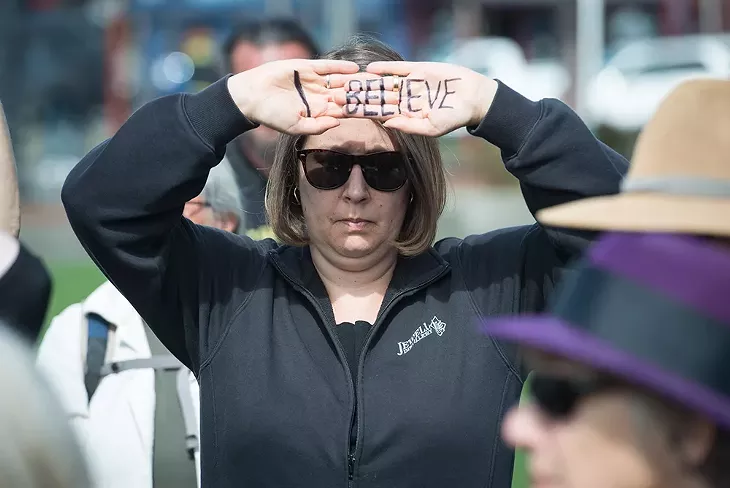 8 slides