Taro Murano/State Water Board
Community members explore their options at the Mateel Community Center this morning.
The State Water Board is holding an enrollment workshop at the Mateel Community Center in Redway until 3 p.m. today and there will be another held in the same place and from 10 a.m. to 3 p.m. on Oct. 30.
Over the last month, hundreds of residents in Humboldt County (most of them in Southern Humboldt) received notices that they were "suspected of actively cultivating cannabis" this last year, according to a State Water Resource Control Board website. Those receiving the notice are given a month from the time the notice was sent out to come into compliance or "risk civil liability for continued non-compliance."
According to Taro Murano, a supervisor with the State Water Resource Control Board who is at the Mateel, the meeting today (and the one on Oct. 30) are "an opportunity… [the letter recipients] can come talk to us in person."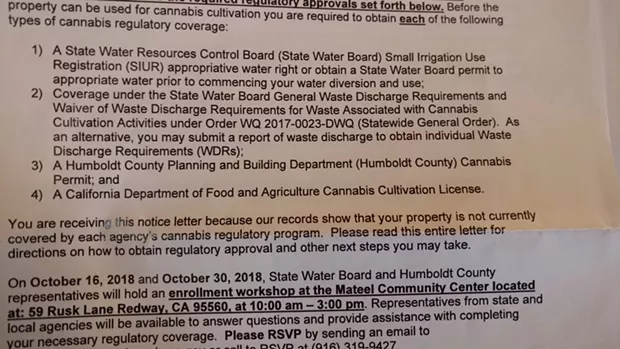 Kym Kemp
Example of a compliance notice.
While Murano acknowledged that "some people did receive the notice in error," he said that those mistakes can be fixed. He noted that if the area isn't being cultivated, the letter recipient should take a photo with a smartphone (making sure that the location data is on) and show that there is no cultivation currently occurring.
"We'll also follow up Aug. 15, 2019," he explained. "[The letter recipient] would submit the same photos of the same area" showing that no cultivation is occurring then.
Many residents have reported receiving letters of violation for grows on a neighbor's property or for vegetable gardens. Murano said, "We erred on the side on inclusion." But, he pointed out that today and the 30th were "an opportunity … if they want, they can come talk to us in person. … Take advantage of the fact that we are here in town locally. … We try to make it as easy as possible."
He also said that photos could be sent by email to the address provided in the registered letters. "Whatever is easiest to clear the piece up," he said.
Editor's note: This report first appeared on www.kymkemp.com and is reposted here with permission.