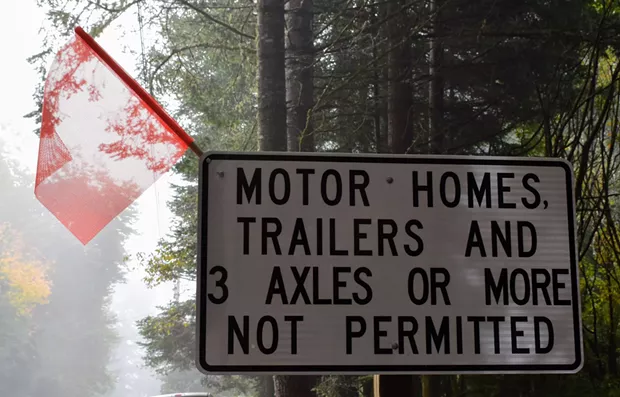 County of Humbolt
Posted road restrictions for Stagecoach Road.
After taking the long way home for nearly three years, residents living along Stagecoach Road north of Trinidad city limits can once again drive over the Mill Creek crossing after Humboldt County Public Works installed a single lane flatcar bridge.
The section of road was closed in December of 2015, when record-breaking storms drenched the region, causing a culvert on the road to fail. Read
Journal
coverage about the dousing
here
and
here
.
Motorhomes, trailers and trucks with three axles or more are not permitted on the road due to tight curves on the approach to the bridge and the narrow road.
This is, according to the county, a temporary fix until permanent repairs can be designed and funded.
County of Humboldt
Northbound bridge approach.
Read releases from Humboldt County Public Works below:
Humboldt County Public Works has installed a single lane flatcar bridge across the washout on Stagecoach Road and the road has been reopened. Stop signs are posted on either side of the bridge to cross only when clear. Please watch for oncoming traffic, obey all traffic signs in the area and watch for pedestrians that may be on the bridge.

Stagecoach Road in Trinidad had been posted with restrictions: MOTOR HOMES, TRAILERS AND 3 AXLES OR MORE NOT PERMITTED. The road is too narrow and has tight curves to the bridge approach.