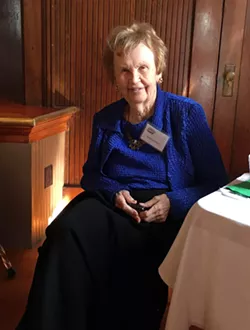 Eureka Heritage Society's Facebook Page
Muriel Dinsmore
Muriel Dinsmore, a tireless supporter of myriad community causes — from the arts to historic preservation to education — died this week. She was 89.
Born in Eureka just before the stock market crash of 1929, Dinsmore grew up in Rio Dell and was well-known for the decade she spent as editor of the
Times-Standard
's Accent on People section, interviewing everyone from First Lady Nancy Reagan to hitchhikers passing through the region.
Dinsmore was a founding member of the Humboldt Arts Council, which runs the Morris Graves Museum of Art, and the Eureka Heritage Society, along with supporting a wealth of other organizations, including the League of Women Voters and the College of the Redwoods Foundation League.
She also served as College of the Redwoods director of public relations for 15 years.
As news of Dinsmore's death spread on social media, dozens expressed sadness at her passing, remembering the mother of four as a "classy lady" with "boundless energy" and a "beautiful smile" who gave passionately to the community she loved.
All those are fitting descriptions, according to her friend Sally Arnot, who like Dinsmore was at the forefront of transforming a nascent arts council into the vibrant community institution it is today.
Arnot says she's always thought of Dinsmore as a "mentor of people," ready to lend a helping hand whenever there was a need, "trying to come up with an answer and trying to connect you with people."
"Her passion was serving the community and Muriel had a phenomenal memory and grasp of people's names and their history," Arnot says, recalling how she seemed to know just about everyone in town.
Dinsmore was a fixture at the Morris Graves Museum of Art in Eureka during its monthly Arts Alive! events, sitting at the front table to greet people as they arrived. The historic entrance of the museum, which she vigorously worked to raise money to restore, is named for her.
Even after she moved to Petaluma to be closer to family after her husband George's death, Dinsmore regularly returned to Eureka and continued to be active in the arts council's work until very recently, says the museum's executive director Jemima Harr.
Dinsmore played an integral role in the mission of museum for decades, always the first to volunteer, Harr says, adding that people continuously ask about her when they come to the museum during Arts Alive!
"She was absolutely gracious," Harr says. "Everyone just loved her, from little kids to grown adults, just everyone loved her. … There's something in every one of us, if we met Muriel, there's something we took away."
Despite her busy schedule, Dinsmore always had time for others and whatever it was that needed to be done, she took on the task in style, Arnot recalls.
"She did it all in high heels, like Ginger Rogers dancing with Fred Astaire, she did it all in high heels," Arnot says.