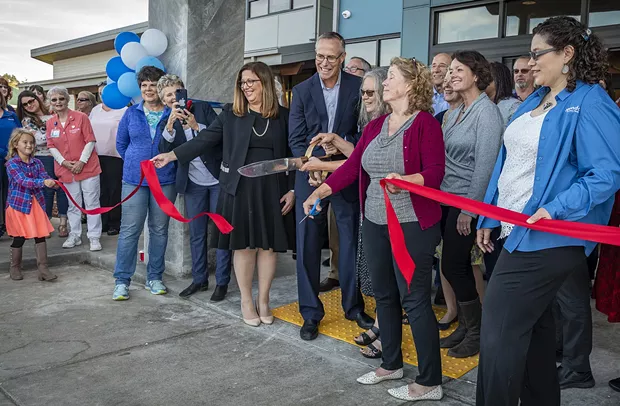 The Fortuna Chamber of Commerce organized the traditional ribbon cutting for the grand opening of the new Fortuna Open Door Community Center with the help of Humboldt County Second District Supervisor Estelle Fennell, St. Joseph Health Humboldt CEO Roberta Luskin-Hawk, North Coast Congressman Jared Huffman, ODCHC interim CEO Cheyenne Spetzler and ODCHC Board President Kathy Moxon, among others.
Open Door Community Health Centers officially added a new facility to its already formidable collection Oct. 26, when officials cut the ribbon on its new state-of-the-art health center in Fortuna.
The event, which drew North Coast Congressman Jared Huffman and Second District Humboldt County Supervisor Estelle Fennell, among other notables, marked the official opening of the 32,000-square-foot outpatient medical and dental facility, which is currently accepting new patients. (Dental services aren't slated to begin until Jan. 7, 2019.) Once fully staffed, the clinic is designed to accommodate more than 200 patients per day.
The five-year project is dedicated to the memory of Open Door's
late CEO and founder Herrmann Spetzler
, who championed bringing comprehensive primary care to the Eel River valley until he died unexpectedly in March.
Designed to support team-based care, the facility is organized into pods, each housing several primary care physicians and support teams that each consist of an RN, a behavioral health professional, care coordinators and medical assistants, according to a press release.
The new facility also includes a teaching kitchen and community garden to provide spaces for "patients and families to learn about nutritious, healthy food and diet, as well as conference rooms for various classes and community events.
Local photographer Mark Larson was in Fortuna when the ribbon was cut and shares the following slideshow.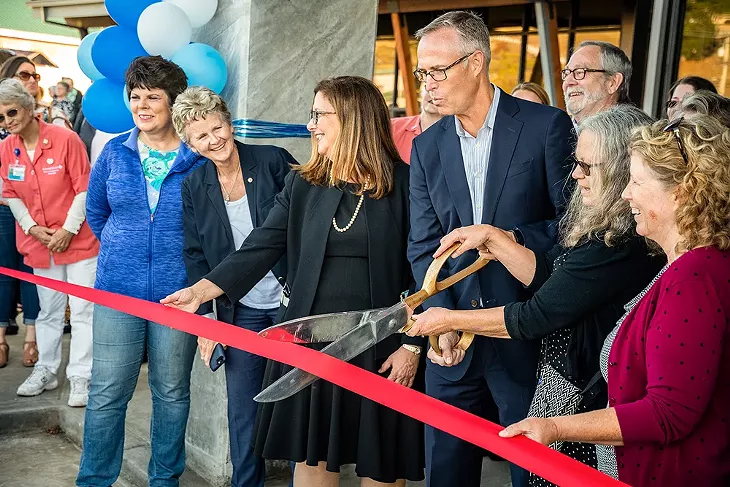 10 slides