Hector Alejandro Arzate
Sadie Shelmire prepares for her presentation at Humboldt State University's Campus and Community Dialogue on Race.
Editor's note: This story contains offensive language. It is the
Journal
's policy not to alter direct quotations or to censor language, no matter how offensive, as it runs the risk of sanitizing that which should not be sanitized.
Sadie Shelmire stood behind the podium and read through her notes before looking up at her mother, who watched as the room filled with people. Although Sadie seemed nervous, her head was adorned with a crown of black and gold box-braids that almost radiated joy and confidence.
"Well, I'm actually feeling pretty good that I'm brave enough to talk about this in front of a lot of people," said the Sunny Brae Middle School sixth-grader. "I'm really excited to tell them my life stories and what I had to go through and what can change."
As a student of color in the Arcata Elementary School District, Sadie wanted to share her experiences of racialized bullying to help other African American children and offer teachers some advice as to how they can be more supportive. For Humboldt State University's 20th annual Campus and Community Dialogue on Race (CDOR), Sadie facilitated her own workshop titled, "Loving the Skin I'm In: My Story" on Oct. 29.
Sadie described her time at Arcata Elementary School, where classmates would often use her race against her as an insult and use racial slurs.
"There's this one girl that I would have trouble with since kindergarten," Sadie said. "She would use a lot of words against me like, 'Your skin looks like poop,' or 'You would look pretty if you were white,' or stuff like that."
Although she shared that she did have support from a few teachers and friends, her negative experiences could have been prevented.
Hector Alejandro Arzate
Sadie Shelmire presents with her mother Tay Triggs.
"We plan on being very fair today," Tay Triggs, HSU's associate dean of student engagement and leadership and Sadie's mother, said. "Sadie had a great experience at her elementary school but it was riddled with things that didn't have to happen the way they did."
The event drew a large crowd of students and community members, including some parents and school staff, with about 150 people attending, according to HSU Library Media Coordinator and dialogue organizer Kumi Watanabe-Schock.
Among the crowd were Suzan DiRicco and her two white sons, a kindergartener and a fifth grader. DiRicco felt it was important to bring her children to the dialogue to hear what students like Sadie had to say.
"The school they go to is not super super diverse and I think it's really important to get the exposure," DiRicco said. "Just to be amongst a peer of their own in front of everybody, speaking on a topic like this, I think is amazing. I just want it to rub off on them."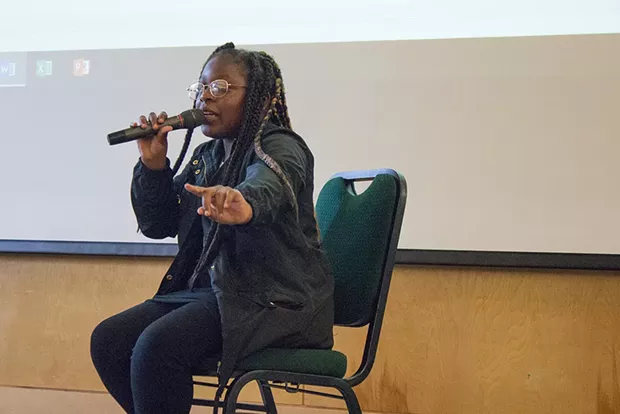 Hector Alejandro Arzate
Sadie Shelmire presents, "Loving the Skin I'm In: My Story."
The workshop garnered so much community interest that organizers had to move it from a small room on campus to the much larger Kate Buchanan Room. Watanabe-Schock hopes the event is one of many that will create more collaboration between HSU and the off-campus community.
"We can't just work in a bubble," she said. "We really need to work with the community. It just makes sense. I think a lot of people are also interested in having K-12 components to train teachers and also parents, so we can share. That's why Tay and Sadie's presentation was great."
Using a talk show-like format, Triggs interviewed Sadie about what it was like navigating incidents of racialized bullying and how her school dealt with them. Sadie said she didn't feel like her school administrators took her feelings seriously.
"Instead of sending me back to class right after this incident happened, while I'm still crying, at least send me to the counselor's office so that I can fully let it out," Sadie said. "If somebody would have said something about your race, that would have changed [your] whole day. At least let (kids) have a chance to go home so that they can really get ready for the next day at school. Obviously, that's going to distract them from learning."
Triggs shared that, as a mother, it was frustrating to watch her daughter go through that hardship while school administrators seemed indifferent.
"You're treating these racial incidents as if they're like any other kind of incident happening," Triggs said. "No one called her the Wicked Witch of the West, we'd be having a very different conversation about that. They told her her skin looks like poop. Someone called her a 'nigger.' Someone called her a 'coon.'"
In most grade schools, bullying is a serious issue. With racism mixed in, it can make focusing on learning impossible for some students.
But giving Arcata Elementary School a fair shake was an important aspect that Sadie and Triggs welcomed in highlighting her experience. Among the teachers and after-school assistants working to stand up for students of color was an outspoken audience member named Julie. She said parents on both ends of racialized bullying have come together to hold community-building events at school.
"I was a school social worker at the time when Sadie was going through all of this stuff," she said. "I just wanted to say that there were caring people at that school that really tried to end racism through some of those really hard times. It's not going to take away all the hard, horrible stuff that you experienced but we continue to try and improve the stuff that you were dealing with. I'm so sorry."
Many people find it uncomfortable to talk about race but Watanabe-Schock said the dialogue is designed to be a step toward inclusivity and understanding, giving white people insight into what marginalized people experience in a town like Arcata, despite the best efforts of some.
Despite the hardship of being an African American student in a predominantly white community, Sadie has manifested a voice of her own that she hopes will inspire other students of color.
"Now that I actually have a voice in sixth grade … instead of focusing on all the negativity and the haters, I just like to go to school with my friends and learn." Sadie said. "If they ever try to get to you, just turn your back and say, 'Talk to the hand,' and walk away with your friends. … If you don't have friends, walk away solo. That means you're just confident enough."