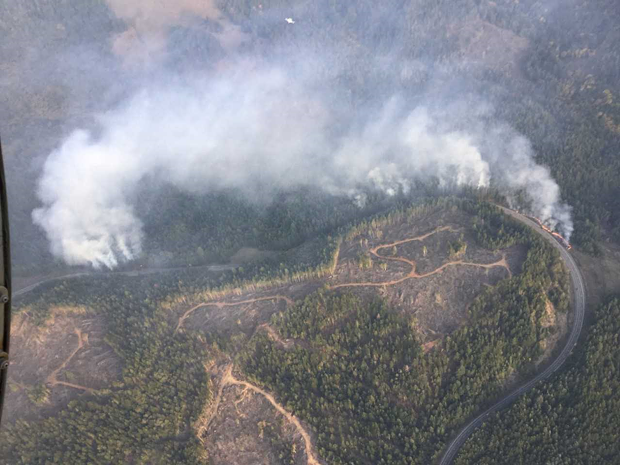 Aerial view of the Green Hill fire.
Cal Fire
FOURTH UPDATE: Forward progress of the fire in the Bridgeville area, known as the Redwood incident, has been stopped at 1.8 acres, according to Cal Fire.
THIRD UPDATE: Cal Fire declares the Green Hill vegetation fire contained at 10 acres but warns that a new incident has sprung up off Kneeland Road, where a full wildland fire response "including aircraft, equipment and crews" is headed, according to agency spokesperson Laura Coleman.
More information on the Kneeland fire is expected to be released soon. According to a Cal Fire tweet, the incident is about 3 acres in size.
SECOND UPDATE: Eastbound State Route 299 has reopened but a single lane closure is possible all night for a small stretch, according to the CHP Incident Page.
UPDATE:
According to Cal Fire, the Green Hill fire, which includes "multiple incidents" started at 4:45 p.m. and is burning in brush, timber and timber slash. The cause is under investigation and was at around 10 acres just before 5:30 p.m.
PREVIOUSLY:
A fire has shut down eastbound State Route 299 at Glendale with traffic being routed into Blue Lake, according to the CHP incident page post around 4:40 p.m.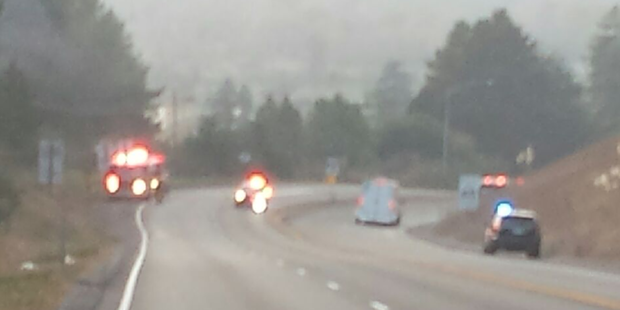 Photo courtesy of Mark Nelson
Fire engines and law enforcement along Hwy 299 at a fire that is now under control.
Since just before 4 p.m., multiple fires have popped up between Berry Summit and U.S. Highway 101 and a fire has started near the King Salmon off-ramp.
At least one of the fires is reported on the scanner to be over 5 acres. The fire pictured above is reported to be under control by a witness, Mark Nelson. Two reporters for
Redheaded Blackbelt
were headed to two of the fires.
Cal Fire is responding with lights and sirens to a fire near Blue Lake as of 4:42 p.m.