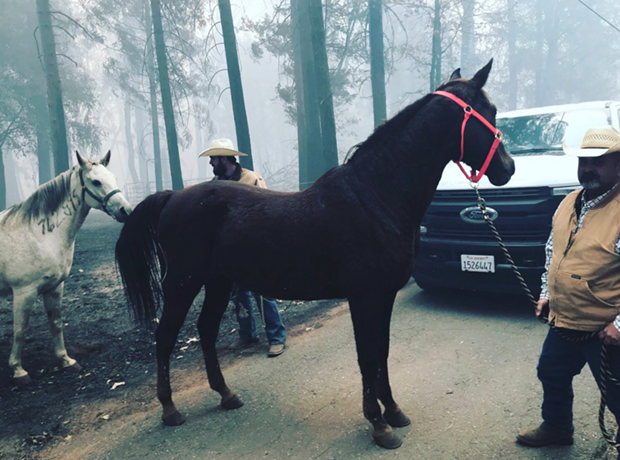 Butte Cal Fire
"Volunteer organizations, including @NVADG, have been working to relocate and shelter animals from the fire area," tweeted Butte Cal Fire. "We couldn't have accomplished as much as we have over the past week without their help."
The Camp Fire raging in Butte County is now known to have claimed 48 lives – with six people found yesterday in residences that had been overrun by flames. That number is expected to rise as teams comb through the ashes in search of those not yet accounted for nearly a week later.
Around 7,600 homes and around 260 businesses have been destroyed. More have been damaged and 15,500 structures are threatened. Check out the online
Camp Fire Structure Status map
for more information.
Overnight the fire continued to grow but calmer winds moderated its spread. Today, it is estimated to have reached 135,000 acres and is about 35 percent contained. Over 52,000 people have been evacuated many of them with no homes to return to once the fire is out.
Below are maps and a breakdown of what to expect.
The Plan: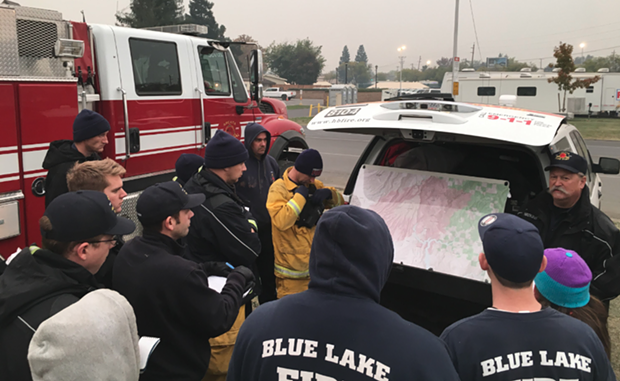 Strike Team Leader Kent Hulbert
Humboldt County Strike team getting briefed.
The fire is continuing to creep to the north, east, and south while the west flank State Route 99 containment line is holding.
Firefighters have been putting in dozer lines and doing backfiring. They are working particularly hard to keep the wildfire from reaching Stirling City and into Paradise Pines on the north.
While this may look like a monstrous fire bearing down on the town of Stirling City, it is actually a protective wall of backfire that has been put in place with the help of local firefighter Diana Totten, a Division U supervisor.
"We use fire to fight fire," explained Humboldt County resident Diana Totten who is the Division U Supervisor. "Those backfires are a very good strategy…Now the fuels are gone ahead of the coming fire."
Several factors helped, Totten said. "The northeast winds were in our favor."
She said, "We work with a lot of dynamics–the fuel, the weather, the topography, and the personnel [when using backfires]." Each of them have to have the right conditions for the backfires work correctly, she said. "The biggest dynamic needed for success is having people who are really well trained. It takes hundreds of people all going with one goal in mind."
She said her crews are doing phenomenal work.
However, the destruction and horror of the catastrophic wildfire can be hard on crews in the area, she said. "I'm still finding animals that have been locked in houses and horses with phone numbers spray-painted on their side."
The burned buildings, the animals suffering and the weight of knowing how much fellow humans have lost is difficult, she explained. "After driving through the devastation in the town of Paradise, it helps to have the successes of places like Stirling City so that when we drive home at night, we feel hope," she said.
Images:
Trinity, Mendocino, and Humboldt County crews are in Butte County helping. Like soldiers, the images they so often send home are of the good times not the horrific experiences that may haunt them for months.
Weaverville Fire
Trinity County's Weaverville Fire Department posted this and said, "Strike Team 3275c members briefing the locals on today's operations. There will be no horsing around."
Kent Hulbert
Humboldt County's Strike Team sent us this photo of Miranda Firefighter David Felt with a dog that adopted the crew yesterday.
The Weather:
Though the fire wasn't quite as active yesterday, relatively low humidity today (14-20 percent minimums) and dry vegetation have the potential to feed the fire and cause rapid growth.
However, winds are expected to be light during the day. Tonight gusts could reach 15 mph (20 mph in the Feather River drainage) and increase the danger of spotting.
The Roads:
For the most recent information go to
http://QuickMap.dot.ca.gov
.
Evacuation Information:
For the most up to date information, click
here
. Scroll down once there to find an excellent evacuation map.