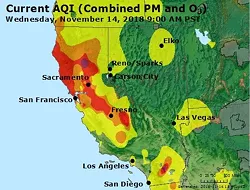 Smoke from the devastating Camp Fire in Butte County — the deadliest in the state's history with at least 48 now confirmed killed — is continuing to affect
air quality
in the region today.
According to a release from the North Coast Unified Air Quality Management District, the impacts are expected to be "Moderate" to "Unhealthy for Sensitive Groups" with periods of "Unhealthy," depending on weather conditions.
The Camp Fire, which all but wiped the town of Paradise off the map, has burned 135,000 acres and is 35 percent contained with 7,600 homes destroyed and another 15,500 structures threatened.
For the most updated information on the Camp Fire, click
here
.
Read the release from the air quality district below:
Depending on weather conditions, smoke impacts from the Camp Fire in Butte County may occur in areas of Humboldt, Del Norte and Trinity County. This fire is currently at 135,000 acres with 35% containment. Humboldt, Del Norte County & Trinity County Increasing smoke impacts from the Camp Fire have been present in coastal areas of Humboldt and Del Norte County.

Overall smoke impacts are forecast to be "Moderate" to "Unhealthy for Sensitive Groups" with periods of "Unhealthy" depending on weather and location. Weather forecasts indicate light northerly wind late this evening which should help bring some improvement in conditions. It is anticipated that smoke will continue to linger in the area until conditions change. Smoke levels will vary depending on weather conditions and fire activity.

As is typical for this time of year, overnight inversions will limit smoke dispersion until the day starts to warm up. • Coastal Areas (Crescent City to Shelter Cove) - overall "Moderate" to "Unhealthy for Sensitive Groups" with brief periods of "Unhealthy" depending on conditions • Southern Humboldt – "Moderate" to "Unhealthy for Sensitive Groups" with periods of "Unhealthy" depending on conditions • Inland Humboldt and Del Norte County – "Moderate" to "Unhealthy for Sensitive Groups" • Trinity County – "Moderate" with periods of "Unhealthy for Sensitive Groups."