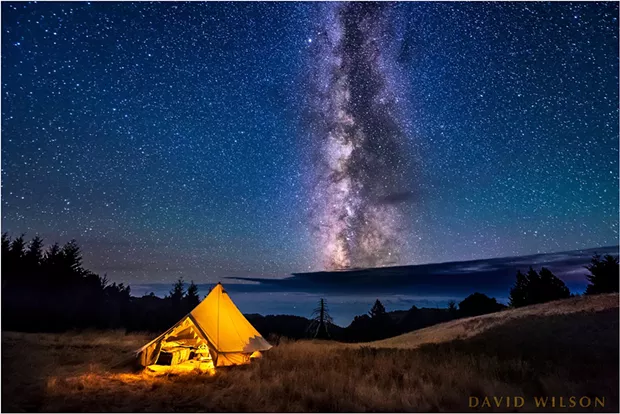 David Wilson
Overlooking the Pacific Ocean from Paradise Ridge in the King Range, southern Humboldt County, California.
The Fall Equinox of Sept. 21, 2017, found me camping beneath the stars on Paradise Ridge in Southern Humboldt's King Range, a BLM-managed area of our beautiful and famous Lost Coast. Friends I've known since childhood had invited me out to join them for a night of stargazing and Milky Way photography in one of their huge glamping tents from their Wayward Glamping business. Early clouds as we set up our camp dampened my hopes for clear skies, but by nightfall the curtains had pulled apart to reveal the celestial show.
The views from Paradise Ridge are spectacular. To the west it overlooks the Pacific Ocean north of Shelter Cove and south of King Peak, the highest point in the range at 4,091 feet. To the east of the ridge, the view includes much of the South Fork Eel River watershed and far beyond to the dim horizon. Because it is so remote, the King Range offers some of Humboldt's darkest skies, which is perfect for astrophotography and stargazing.
As usual in my night photography, these photographs were taken with the light sensitivity (ISO) set extremely high, the lens opened wide and a long exposure of nearly 30 seconds. With those settings, the camera captured the dimmest of light far better than my eye could. I couldn't see as many stars with my naked eye nor quite as much detail in the Milky Way. The tent was illuminated with the tiniest of lights, I think it was a single candle. It hardly made the canvas glow, as far as I could tell standing outside of it. Yet to the camera it was bright. My settings allowed it to catch the candlelight brightly, pick out the faintest stars and bring forth the Milky Way's detail. Ahh, photography.
David Wilson
We were in paradise. The sky blazed overhead with stars, galaxies and flashing meteors, fishing boats scurried along the horizon, wildlife prowled about … but a good book is a good book!
If you were to try this yourself, make sure you either have a tripod or a sturdy and secure surface to support your camera. Set it to manual focus and focus near infinity. Put it on manual exposure, open the aperture wide and set your shutter speed to 20-30 seconds. Set the ISO to the highest. Take the picture and examine it on the camera LCD screen for exposure. Zoom in to check focus. Make necessary adjustments and shoot again. Good luck and have fun!
To keep abreast of David Wilson's most current photography or peer into its past, follow him on Instagram at @david_wilson_mfx or his website mindscapefx.com, which Wilson says he updates less frequently.