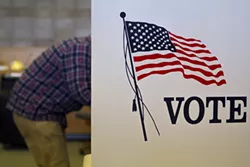 The Humboldt County Elections Office released updated results this afternoon that leave things pretty much
where we left off
on election night.
The new tallies add about 9,000 votes but the percentages remain roughly the same in most races. Of note is the nail biter up in tiny Trinidad, where six candidates are vying for three city council seats. Four of those candidates remain separated by just eight votes, with 442 counted in the race thus far. At the moment, Dwight Miller (94 votes), Tom Davies (92 votes) and James H. Baker (91) are ahead, but incumbent Susan Rotwein lurks in a very close fourth with 86 votes.
Elsewhere, Eureka's Measure I — which sought to impose a 0.25 percent transaction and use tax to pay for road repairs — inched closer to the two-thirds margin it needs to pass. But now sitting with 62.43 percent of the 4,773 votes counted, it still probably has too much ground to make up to flip in the final tallies.
Based on what Humboldt County Registrar of Voters Kelly Sanders
previously told
the
Journal,
there may be as many as 20,000 ballots remaining to be counted. She said she plans on releasing further post-election updates Nov. 21 and Nov. 28. See the latest updated returns in their entirety
here
.