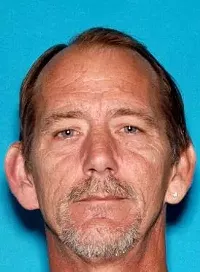 MCSO
Frank Pinckney
The body found in a burning van Nov. 24 in a pullout a few miles west of Leggett on U.S. Highway 1 has been identified as missing Eureka man, Frank Pinckney, his daughter Jasmine Barreto said today. He was 58.
"They matched dental records and confirmed," she told
Redheaded Blackbelt
. "I was notified Thursday."
A witness saw a white male, described as weighing about 180 pounds and wearing a white jumpsuit with logging boots, fleeing the scene. "His leg was on fire," Jamie Rennie, the witness, previously told R
edheaded Blackbelt
. "He was patting his leg and jumping around. … He was yelling incoherently and ran around to the back of the vehicle." After that, Rennie lost track of the man.
The van was later discovered to have a body in it and have multiple bullet holes. A gun was located under where the vehicle originally began burning. The van later rolled across the road, over the edge and into a tree.
The Mendocino County Sheriff's Office previously linked the burned vehicle to Pinckney and noted in a Nov. 25 news release that he was missing and "family members are concerned for his well-being."
On a GoFundMe page, Barreto described her father as "a good, kind, selfless and loving man. He touched so many people through the years. It's been an honor to talk with so many of his friends about fun stories and memories."
Barreto explained in the post, "As I've been sorting through the pieces of what's left of my father's life. … It's been a struggle to get everything done. I know many people have asked to help and donating is the perfect way." She continued, "I will be using the funds to pack and move his belongings, put together his services and anything else that may need to be taken care of."
If anyone would like to help, click here for the
GoFundMe
.
"I loved him so fiercely and I know so many of you did as well," Barreto wrote. "As Frank would say, 'Love and light.'"
Note: There is another missing man in a white van from McKinleyville. Please don't confuse the cases. As far as we know these are unrelated.
Editor's note: This story was first published on kymkemp.com and is reprinted with permission.