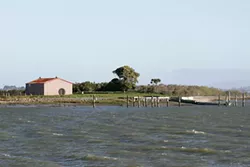 File
Tuluwat, on Indian Island.
The Eureka City Council is slated tonight to decide whether to move forward with transferring ownership of Indian Island back to the Wiyot Tribe.
The city's planning commission voted unanimously last month to find that the 202 acres of land the city owns on Indian Island are not required for "current or future public use" and is thus surplus property. The council will consider tomorrow whether to officially declare the property surplus and direct the city manager to negotiate transferring the land back to the tribe.
The city has been discussing the transfer with the Wiyot Tribe since 2015. Back in 2000, the tribe raised the funds to purchase 1.5 acres of the island's southeastern shore, including part of the historic Tuluwat village site. The intention was to bring the World Renewal Ceremony back to the island, which the tribe did in 2014, completing the ceremony that was interrupted in 1860, when a group of white men massacred as many as 250 people, mostly Wiyot women, children and elders on the island. The city has since gifted an additional 40 acres of the island back to the tribe and, in 2015, launched discussions to transfer ownership of the rest of the city's property on the island back to the tribe.
Those discussions were thrust into public view a year ago, when local businessman Robin Arkley publicly
bemoaned
the city's plans to "give away" its property on the island and called it a "thinly veiled gift to a favored group/nation at taxpayer expense." In a series of emails to the city, Arkley pressed the city to cite its legal authority to discuss returning the land to the tribe and insisted he would not "sit by and watch our city's scarce resources be transferred without adequate process being followed."
Reached last week, City Manager Greg Sparks said the city is following a legally defensible process, noting that the Wiyot Tribe secured grant funds to pay for an environmental review and that the city is currently in the process of offering the property to other government agencies, a requirement of the process a municipality must go through in declaring surplus property. And, Sparks said, the city has not been in contact with Arkley on the subject since the flurry of emails last year.
"From the council's standpoint, I think they would have loved to see this happen several years ago but I think it's been a good process of the city working with the tribe and attorneys working together to make this happen," Sparks said.
Wiyot Tribal Chair Ted Hernandez could not be reached for comment for this story.
The council meeting begins at 6 p.m. tonight at Eureka City Hall, 531 K St. Read the full agenda packet
here
.