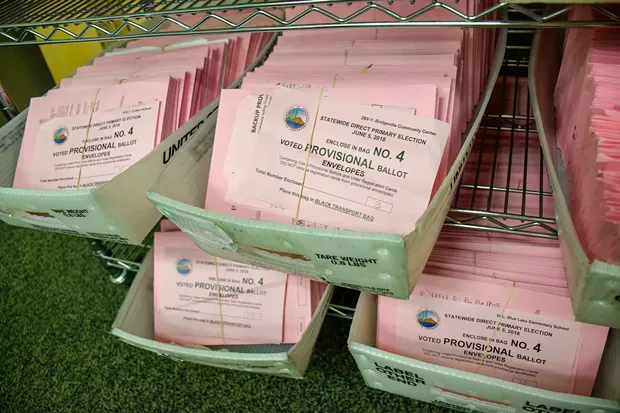 Photo by Thadeus Greenson
Bundles of provisional ballots wait to be vetted and counted in the Humboldt County Elections Office.
Does Humboldt County have the most ballots remaining uncounted of any county in the nation? One national elections expert thinks so.
David Wasserman, the house editor for The Cook Political Report and a frequent contributor to FiveThirtyEight, tweeted last night: "I think it was @DKElections that used to describe slow-vote counting election offices as "taking a ganja break." As fate would have it the country's biggest stash of remaining uncounted ballots (at least by my estimate) is in Humboldt County, CA."
For those among us who aren't elections nerds,
Wasserman
is kind of a big deal. His work forecasting U.S. House races is frequently cited in the nation's top publications, including
The New York Times
,
The Wall Street Journal
,
The Washington Post
,
The Economist
and others, and he drew widespread praise for writing a prescient
piece
months before the 2016 election pointing out there was a likelihood President Trump could win the election while losing the popular vote. In short, the guy is widely regarded as knowing his stuff.
The California Secretary of State, which oversees vote counting in the notoriously slow to tabulate Golden State, maintains a
county-by-county list
of how many ballots remain to be tallied. As of this morning, Humboldt County is still listed as having the second most outstanding ballots in the state, with 15,866, less than half that of that of Riverside County's 38,000 remaining ballots. But Wasserman maintains that Riverside processed most of those ballots yesterday and now has just 11,000 left, pushing Humboldt into the state lead.
And because vote counting is pretty much wrapped up in the rest of the country, Wasserman pegs Humboldt with the seemingly dubious designation. (It should be noted, however, that the California Legislature has put a variety of laws in place aimed at enfranchising voters and ensuring accurate counts that slow the post-election process. Read a solid primer on that
here
or our piece from the June primary with a local look at the subject
here
.)
The
Journal
tried to get the Humboldt County Elections Office to weigh in on the subject but the office is closed today for the national day of mourning, which leaves us wondering when we can expect a final tally.
One of Wasserman's followers, @caviabella, weighed in with a prediction: "Heck they'll HAVE to finish up by 4/19 to celebrate on 4/20!"