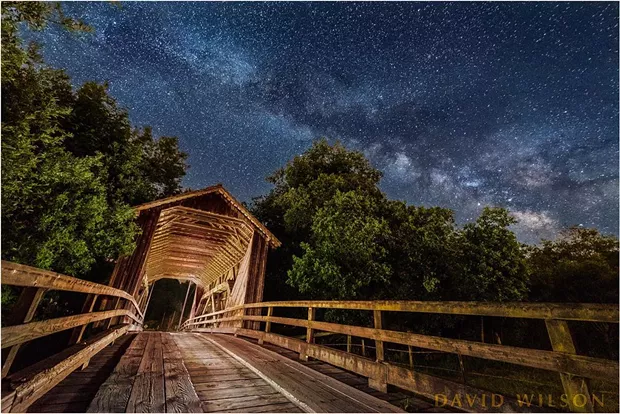 David Wilson
Berta's Ranch Covered Bridge is a couple miles out Elk River Road on Berta Road.
Humboldt County is home to a number of noteworthy bridges, two of which are wooden covered bridges built in the 1930s. Both of these are still in service out Elk River Road and I've thought for a while that catching an unusual view of them beneath the stars would be interesting. Earlier this year I visited the pair, hoping to find angles that would include the Milky Way flying over them. Yes, you know I love to include it over my landscapes. The Milky Way's structure is the most visible reminder of the vastness of the cosmic space in which we drift and it comforts me to know that we are really too tiny down here for our problems to matter much in the true scope of things.
It's quiet out Elk River on a week night. I photographed both of these bridges at about 10:30 p.m., just a few days apart in July of 2018. Only a couple cars passed by either night and I was probably photographing for about an hour both times. Humboldt has a third covered bridge, built in the 1960s, out past Jacoby Creek but I have yet to work out an angle for that one that could also feature the Milky Way.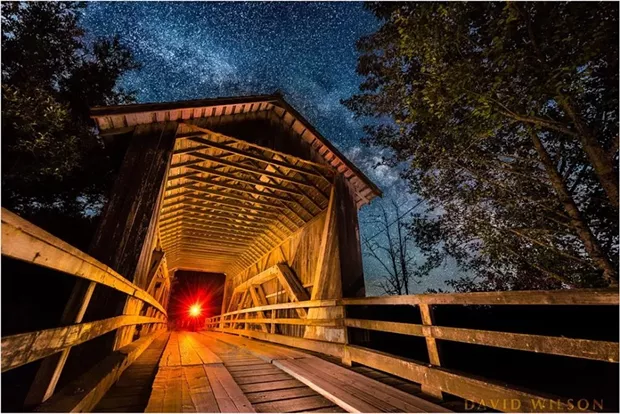 David Wilson
Also off of Elk River Road, Zanes Road covered bridge is another half-mile or so past Berta Road. The red light at the end of the tunnel is me holding my headlamp.
In order to let in enough light to make a reasonably bright image in my nighttime photography, I use longer exposure times than daylight photography requires. At night I often shoot with a 30-second shutter speed. Thirty seconds is no magic number; there are other shutter speeds that would work for the sky if I were to set the aperture or ISO differently, but it does give me a little time to creatively add my own light to the foreground, which is the most challenging aspect. I don't have a crew or banks of lights. When I add my own light, I have to paint my scenes in manually, often with my flashlight's beam passing over as much of the subject as I can during the half-minute that the shutter is open. It's not always enough time to illuminate everything and often the first attempts don't work out.
To keep abreast of David Wilson's most current photography or peer into its past, follow him on Instagram at @david_wilson_mfx or his website mindscapefx.com, which Wilson says he updates less frequently.