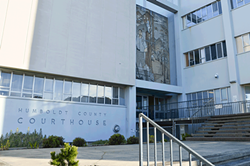 File
Things are likely to get heated in Supervisors Chambers tomorrow, when the board is slated to discuss a swath of zoning changes.
The Mad River Grange meeting hall in Blue Lake was packed with about 100 worried residents on the evening of Dec. 6 who intently watched three county planners explain proposed zoning changes in Glendale. The small, unincorporated community between Blue Lake and Fieldbrook along the Mad River, near where the Humboldt Bay Municipal Water District's intake wells and water purification plant are located.
At an earlier meeting of the Humboldt County Planning Commission, zoning changes had been proposed that Glendale, Blue Lake and Fieldbrook residents strongly objected to, and Planning Director John Ford had set up the Dec. 6 community meeting to talk to them and provide additional information.
However, the audience and the planners seemed to be talking past one another rather than to each other.
Ford, Senior Planner John Miller and Senior Planner Michael Richardson tried to explain that the new General Plan had resulted in many changes of Land Use designations throughout the county. As a result, the existing zoning designations needed to change for the sake of consistency.
Miller explained, "Each property in the county has a General Plan land use designation, like residential low density ... that's like the constitution and on top of that we apply the laws, that's the zoning regulations. … For example, the designated land use might be Residential, but the zoning might be 'an R-1 single-family zone that has a minimum lot size of 6,000 square feet.'"
Careful reading of the proposed zoning regulations may lead to some surprises as to what is permitted and what is not in a given zone. The biggest increase in zoning is the change of thousands of previously "unclassified" properties to other zones, such as timber, agricultural, mixed use or residential.
The planners also introduced several new "principal zones" — urban mixed use, rural mixed use, public resource and recreation, tribal lands and timber exclusive zone. Also introduced were some "combining zones" that add restrictions to the principal permitted uses on the land.
Many members of the audience thought this was a high-handed approach to decisions that should be left up to residents of the affected community. They accused the planning department of rushing ahead with changes that should first be thoroughly discussed by members of the affected communities. They felt that the community should decide where commercial areas should go, where industry could occur and how residential areas should be zoned. People talked about the need for sidewalks in areas where children walk to school and preserving the current rural atmosphere of their community. They wanted to know how the new zoning plans would protect rivers and creeks.
The planners illustrated their comments with a series of colored maps, which the audience found difficult to understand.
"Where's the Mad River?" asked one woman.
"I have no idea where anything is that you're talking about," said another. "Can you show me on this map where Murphy's Market is?"
Fieldbrook residents pointed out that a Fieldbrook Community Plan had been developed years ago but had been mysteriously omitted from the General Plan Update.
Blue Lake, an incorporated city, was concerned that the zoning changes proposed by the county would bring unwanted impacts within its city limits.
"As a neighboring jurisdiction, the city of Blue Lake considers Glendale a sister community ... I would like to ask the county to consider additional workshops to discuss the Glendale area with a more targeted focus on a long-term development strategy ... it makes sense to take a slower and more thoughtful approach to zoning and development strategies," said City Manager Amanda Mager in a letter to Ford.
Third District Supervisor Mike Wilson remarked that "Humboldt County is extremely unusual in that in this General Plan Update of 2017, we've principally permitted residential use on every timber and agricultural parcel in the entire county. That's tens of thousands of parcels across the entire county, which is highly unusual in this day and age. This is very serious, dramatic level of land use change ... to the protest and chagrin of the ag community."
He urged the members of the public to stay involved in the planning process.
Fifth District Supervisor Ryan Sundberg defended the county's process in a post on www.nextdoor.com, saying the public outreach was "extensive" and that the county looked at "each parcel individually before deciding on how to map them."
But Fifth District Supervisor-elect Steve Madrone complained about the speed with which these proposed changes were being handled.
"The county has at least two years to change zoning after the General Plan was changed," he said. "Given community concerns, it seems prudent to meet with communities, update community plans and then tackle the zoning after that has been done. What is the rush here? We need to take the time and do it right."
The Board of Supervisors will decide whether or not to finalize the planning commission's earlier recommendations at its meeting tomorrow at 10 a.m. at the County Courthouse.
The board will also decide whether to ask the planning department to initiate the creation of community plans for the McKinleyville Downtown area, as well as for Willow Creek, Fieldbrook-Glendale and Blue Lake.