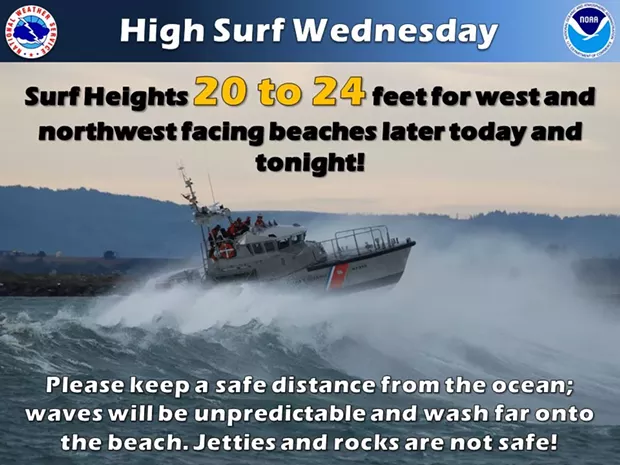 High surf is once again set to hit Humboldt shores with another surge expected this afternoon and overnight, according to the Eureka office of the National Weather Service.
Breaking waves are looking to be in the 20- to 24-foot range and officials are asking folks to use caution near the shoreline and mariners to monitor the status of the harbor entrance.
Earlier this week the surf was even higher, upward of 30 feet, which led to the U.S. Coast Guard shutting down the bay entrance and the county of Humboldt to close down Centerville Road (check out the photo below if you are wondering why).
County of Humboldt
Centerville Road is overrun by surf on Dec. 17.
While the road has been re-opened, the county advises that "dangerous conditions could occur anytime without notice." Complicating matters will be the highest tides of the month this week.
Friday will see an 8.15-foot high tide at the North Spit with the numbers peaking on Dec. 23 at 8.47 feet before winding back down to 8.01 feet on Christmas morning.
Known as the perigean spring tide, the lunar phenomenon occurs when the moon is closest to the Earth in either the new or full phase, according to NOAA.
Read the release from the county below:
Centerville Road at PM 4.6 has been re-opened but be advised that dangerous conditions could occur anytime without notice. High tides are predicted to be over 7.0 feet for the next few days and tides do cross Centerville Road at Humboldt County Park at Centerville Beach. Advisory signs are posted on the north and south sides of the park. Please drive carefully and if the waves are near the roadway or there is standing water, do not attempt to cross the road. Doing so could cause your vehicle to stall and be pulled into deeper water.