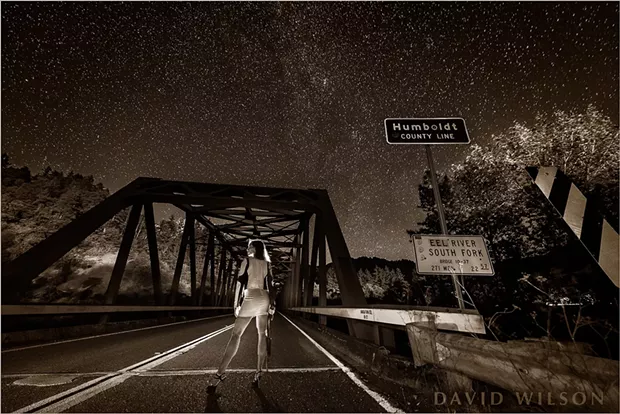 In 1993, I spent a year in Chicago. Even then I loved photographing at night; I have always been drawn to it. I would use either available light or introduce light of my own, painting it into a scene much as I do now. I wasn't comfortable photographing with models then, confining myself mostly to scenes without people and making them interesting with unusual angles and lighting. I had a couple of photography shows while I was there, both in small galleries. After those two shows, I was charged up and submitted my portfolio to a larger gallery. But I ran into a curious thing.
"They're interesting," the curator said, "but you need figures in them. Figures lend a human element and a story to an image."
I was abashed, and somewhat offended, I have to admit. But as time passed, I realized she was right. Photography is a visual language that can convey feelings, messages and stories. But there is only so much story you can get out of a sunset, or a flower or interesting lighting when there are no people present. A pretty picture can be very attractive, no doubt, and I was proud of my photographs, but when you put a person in there, tales will pop out.
Each person viewing an image will have a different experience of it, which will sometimes make it difficult for the photographer to convey specific ideas or messages. Someone might chuckle where another gasps. Individual experiences people have in their lives shape how they view the world and one person's reaction to an image may be very different from the reaction of another person. At one show I had, a woman simply could not look at a photograph of my young son's face that I had blended with leaves. To me it was a soothing image. But she had to turn away from it, telling me it was painful to see. I don't know what experience she had had that could give her that reaction to the peaceful image of my little "Forest Spirit," but it was very real to her.
On Saturday, Oct. 13, model Lula May Williams and I met to make images at the Humboldt-Mendocino county line that we knew would resonate with people in one way or another. The setting was Cooks Valley Bridge on State Route 271, which crosses the South Fork Eel River at the southern border of Humboldt County, parallel to U.S. Highway 101 just a couple miles south of Richardson Grove.
A photograph is worth a thousand words, they say. Some photos show, some describe and some tell stories. Consider the stories forming in your mind as you study these images. What thoughts do you find surfacing? Whatever I may have been thinking when I photographed these moments, whatever Lula thought as she planned her outfits and props and poses, the stories forming in your mind are your own. I made these photographs knowing that the figures would tell powerful stories for some people. Though there are times when I want to send a message, this isn't one of them, and these photographs aren't messages from me. They are catalysts for your own thoughts. The thoughts you are experiencing are from you. My own role is to provide food for your thoughts.
What I am trying to say is that I'm not trying to express a message here. Yet I know these images will generate some powerful thoughts in some of you. We shot from several angles, with various lighting, and she wore different clothes and struck different poses, creating opportunities for narratives to develop in the viewer. One of the poses was whimsical, a dancer in the twirling glow of a whirling scarf.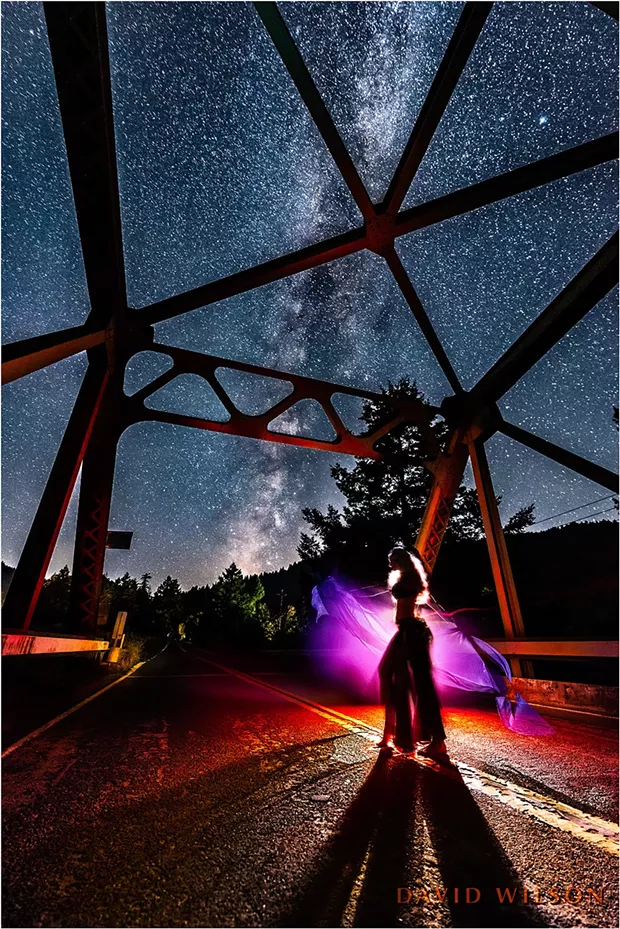 As Lula and I photographed the dancing scene, a car's headlights down the road approached and pulled in alongside my truck. The lights went out and a car door slammed shut. Uh, oh, I thought. Miscreants? I worry about them sometimes.
"Is one of you David Wilson?" Called a woman's friendly voice.
What?!
I laughed. "Yes! Who is it?"
"It's Talia!" She cried. Far out! It was Talia Rose, famous around here for her wonderful wildlife photography down near the county line. She had just passed by us a few minutes before and returned to see if it were me. And it was.
We laughed some more. She pointed out where she'd seen some of the wild animals she photographs. A couple days later, within spitting distance of where we were on the bridge, she saw and photographed a mountain lion stalking an otter. The cat may have been nearby while we were out there, eyeballing us for a midnight snack.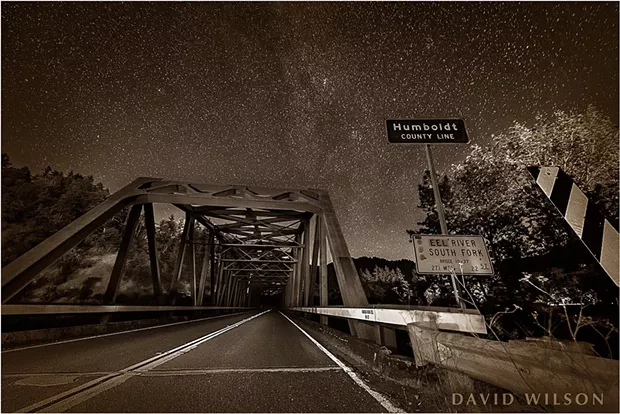 The light on the hillside in the distance is from passing cars on U.S. Highway 101, and the light in the foreground is my own. Williams also known as "LulaMay The Model" on Facebook and @lula_may_no_lula_will on Instagram.
To keep abreast of David Wilson's most current photography or peer into its past, follow him on Instagram at @david_wilson_mfx or his website mindscapefx.com, which Wilson says he updates less frequently.