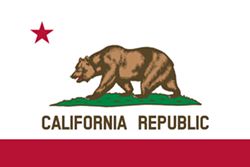 Hundreds of new laws took effect in California today, regulating everything from drinking straws and bicycle helmets to worker pay and kids' meals. Here's a quick rundown of some of the important, noteworthy and quirky things that took effect New Year's Day.
Minimum Wage Hike:
As the state continues its march toward a $15 minimum wage by 2022, the state's lowest-paid workers just got a pay bump. The state minimum wage rose Jan. 1 to $12 for businesses with 26 or more employees and $11 for smaller ones. California is one of 20 states hiking wages for their lowest-paid workers this year as the federal minimum wage has been set at $7.25 since 2009. The living wage calculator created by the Massachusetts Institute of Technology, meanwhile, estimates that a living wage in Humboldt County is $11.57 for a single adult and $25.83 for a single parent raising one child.
Gun Control:
Beginning this year, California will prohibit anyone under the age of 21 from purchasing long guns, like shotguns and rifles. A similar restriction is already in place for handguns. Further, the state will now start requiring folks applying for a concealed weapons permit to undergo a minimum of eight hours of training and to pass a shooting test. Also, under Assembly Bill 3129, anyone convicted of misdemeanor domestic violence in the future will be prohibited from owning a firearm. A new law will also explicitly ban "bump stocks," devices that allow semi-automatic weapons to fire more rapidly, like the one used in the Las Vegas mass shooting in 2017. Another law will also institute a lifetime gun ownership ban for anyone who has been hospitalized more than once in a year for mental health issues.
Straws:
If you want a straw with your beverage while dining out, you'll have to ask for it. A new law prohibits restaurants from providing plastic drinking straws unless specifically requested by a customer in an effort to raise awareness about the environmental impacts and less — use of the disposable straws.
Kids' Meals:
Senate Bill 1192, aimed at curbing childhood obesity and diabetes, requires food establishments that market kids' meals to offer water or milk as the default drink. Customers can still request to sub in sodas or juice.
Gender Identification:
Californians will now have a non-binary gender option for their driver's licenses and state issued identifications. Under Senate Bill 179, folks applying for a driver's license or ID who don't identify as either male or female will be able to mark a non-binary category, which will be designated on the cards by the letter "X."
Police Records:
California law — once among the most protective of police officer records in the country — will loosen considerably this year, giving the public new access to police disciplinary records and footage of officer-involved shootings and other critical incidents. Senate Bill 1421 gives the public access to internal investigations of incidents where officers have killed or seriously injured someone, as well as into allegations of sexual assault and lying on the job. Then in July, Assembly Bill 748 will take effect, requiring that police agencies release audio and/or video footage of shootings or other incidents involving the "serious use of force" within 45 days unless the release would interfere with an active investigation.
Pet Emergencies:
Thanks to the passage of 1305, first responders will now have the option of providing emergency medical aid — including what the Sacramento Bee dubbed "mouth-to-snout" resuscitation — to dogs or cats in need. The practice had previously been prohibited for anyone but licensed veterinarians. (In a slightly related law, Assembly Bill 2274 explicitly allows judges to decide who gets custody of a family pet in a divorce.)
No Drill Zone:
New state law will explicitly prohibit officials from approving new onshore facilities to process or aid offshore oil drilling in federal waters, a shot across the bow of Trump Administration efforts to open the California coast up to new oil drilling.
Female Board Members:
Under a landmark law, any publicly traded corporation headquartered in California now must have at least some women on its board of directors. The legislation — which would require the companies to include at least one woman on their boards by the close of 2019 and a minimum of two by July 2021 — is aimed at closing the gender gap in business. Companies found out of compliance face fines of $100,000 for a first offense and $300,000 for a subsequent violation. The law is expected to be challenged in court.
Breathalyzer:
Under Senate Bill 1046, most people convicted of driving under the influence in the Golden State will have to temporarily install Breathalyzers in their vehicles to get their driver's licenses back. The bill, modeled after a pilot program in Alameda, Los Angeles, Sacramento and Tulare counties, will sunset in 2026 if it isn't renewed.
Electric Scooters:
As the electric scooter rental craze continues to gain a foothold in cities and urban environs throughout the state, Assembly Bill 2989 will allow folks age 18 and older to ride them without a helmet on streets with speed limits of up to 35 miles per hour.
Cyclist Crash and Dash:
California bicyclists will now be subject to the same hit-and-run provisions as their vehicular counterparts. Assembly Bill 1755 requires cyclists involved in a crash — whether on a bike path, a trail or a road — to stop at the scene.
Kids' Helmets:
Police officers can now issue fix-it tickets to anyone under the age of 18 found not wearing a helmet while on a bicycle, skateboard or roller skates. The violation is correctable if the minor completes a bicycle safety course and gets a helmet within 120 days of the ticket being issued. Failure to correct the violation will result in a $197 fine.
Health Insurance:
The Golden State pushed back against federal efforts to limit the Affordable Care Act last year. Senate Bill 910 will prohibit insurers from offering short-term health plans in California that cap benefits, deny patients with pre-existing conditions and exclude prescription drugs and coverage of mental health care. Senate Bill 1375, meanwhile, prevents employers from pooling coverage to offer association health plans that are exempt from many of the ACA's requirements. Finally, Assembly Bill 2499 requires health plans in California to spend at least 80 percent of every premium dollar taken in on health care, limiting the amount companies can spend on administrative costs.
Serving Vegetarian:
Senate Bill 1138 will require healthcare facilities and prisons to offer vegetarian meal options.
Cannabis:
New laws will loosen restrictions on where people can smoke cannabis, allowing festivals, museums, nightclubs and other venues to host special events where folks can buy and consume cannabis. Under Assembly Bill 2215, veterinarians will be allowed to discuss cannabis and cannabis products with their clients, though they will still be prohibited from administering the stuff. Finally, Assembly Bill 1793 puts the onus on the state to clean up the records of people with prior cannabis convictions. Under the new law, the state will comb through hundreds of thousands of past pot convictions to bring them in line with current law, which means, for example, that simple possession convictions will be thrown out while convictions for possession with intent to sell will be reduced from felonies to misdemeanors.
Surf's Up:
This one actually went into effect in August, when surfing became California's official state sport, despite having originated in Hawaii. According to the Los Angeles Times, the bill "was the brainchild of the state Assembly's unofficial Surf Caucus." Who knew?
Thadeus Greenson is the
Journal'
s news editor. Reach him at 442-1400, extension 321, or thad@northcoastjournal.com. Follow him on Twitter @thadeusgreenson.