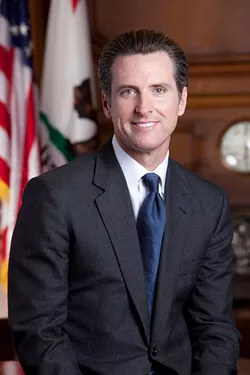 Wikipedia
Gavin Newsom
California Gov. Gavin Newsom released the first budget proposal of his tenure today, proposing a $209 billion spending plan that would increase funding for schools, healthcare programs and the fight against homelessness.
The budget proposal — which came in at about $8 billion more than Gov. Jerry Brown's last spending proposal — also would increase funding for wildfire prevention, give working families a larger tax credit and increase grants available to college students. You can read more about it in the
Sacramento Bee
or the
Los Angeles Times
.
North Coast representatives quickly released statements today weighing in on Newsome's plan. Spoiler alert: They support it.
Find the full statements from Assemblyman Jim Wood and Sen. Mike McGuire copied below.
Senator McGuire's Statement on Governor Newsom's Budget

Sacramento, CA – Senator Mike McGuire issued the following statement in response to Governor Newsom's budget released this morning:

"As promised, Governor Newsom is aiming high with bold approaches and new initiatives launching California forward by investing in our shared priorities.

"We're grateful for his focus on wildfire recovery, enhanced emergency response, modernizing our communication systems and backfilling three years of property taxes for Lake County. We look forward to working with the Governor and Pro Tem Atkins – who has been a champion on modernizing the state's aging emergency response systems – on these important initiatives in the months to come.

"The Governor committed to moving workforce affordable housing forward, investing desperately needed dollars into homeless services and strengthening our public schools.

"And finally, we stand with the Governor on increasing the rainy day fund to a historic $19.4 billion in the coming four years. It's the right thing to do with the inevitable recession on the horizon."
Assemblymember Jim Wood Statement on Governor's 2019-20 Budget

SACRAMENTO—Today, Assemblymember Jim Wood provides this statement on the introduction of Governor Gavin Newsom's first state budget for the 2019-20 fiscal year:

"This budget puts people first. The Governor's focus on Education and Health and Human Services is impressive and focuses on helping people, especially low- and middle-income families.

He continues to take a cautious approach, anticipating slowing growth for the next several years, but has created a vision for California and a way to get there.

The Governor's approach to health care mirrors much of what I and my colleagues have been proposing for the past two years. Figuring out how to expand health care and contain costs has is the goal and there are many pieces of the puzzle that need to be addressed to get there.

His proposal to leverage purchasing power to reduce costs for pharmaceuticals, expanding coverage to all who call California home and expanding health care subsidies for people who earn up to 600 percent of the federal poverty level instead of the current limit of 400 percent are visionary and sound proposals that we should fight for.

The Governor's budget reflects support for education, whether that's a goal of universal preschool, two years of free community college, addressing the hunger and housing tragedies in higher education, and increasing Cal Grants, especially for young parents with children who are trying to complete their education.

His concern for children is significant. He wants to ensure that young children can be assessed early for adverse childhood experiences and treated when appropriate, increase home visits for new mothers, and increasing tax credits for families.

Affordable housing is a crisis and am pleased that the Governor is providing a vision and funds to address that. He wants local governments to join him in addressing the shortage and in return, is looking at providing planning relief, such as relaxation of CEQA requirements, to make that happen.

The DMV needs improvements. His plan to restructure and improve the technology within DMV is overdue. The simple changes of requiring them to accept credit cards and to open every Saturday will be a good start.

There is a lot to unpack in this budget and I look forward, as a member of the Assembly Budget Committee, to reviewing the proposals in more detail and contribute to improving the lives of all Californians and to the state's fiscal health."