Jose Quezada
J Warren Hockaday
Two pillars of Humboldt County community — J Warren Hockaday and Tony Smithers — died this weekend.
Hockaday, a consummate newsman who left the media and public relations world behind to run the Greater Eureka Chamber of Commerce for 14 years before returning to television for a turn, was remembered by friends as a "true gentleman" with a gentle demeanor who adored his wife and children.
"Personally I will miss our conversations and am saddened he will not be here as we transition to the new era of the chamber, which I knew he was very excited about," said Donna Wright, the current chamber executive director, in a release. "My husband Philip and I have lost a dear friend."
Hockaday, who died Sunday, also served on the boards of United Way of Humboldt, the Northcoast Repertory Theater and Northcoast Big Brothers/Big Sisters. He was 70.
Smithers, the longtime head of the Eureka-Humboldt Visitors Bureau, died suddenly Saturday, according to a press release from the bureau. The family has requested no calls or flowers. A private memorial will be held for family and close friends. Smithers was 58.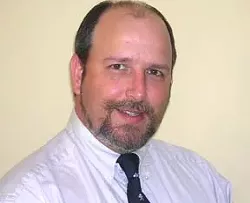 A memorial fund for Smithers' family has been set up at the Coast Central Credit Union in Eureka.
In the wake of Smithers' death, the Eureka City Council today pulled an agenda item scheduled for tomorrow's meeting to consider withdrawing its $370,000 contribution to the Eureka-Humboldt Visitors Bureau.
Read more about
the proposed plan here
. The item has been rescheduled for Feb. 5.
Read the full release from the chamber below:
It is with deep sadness that the Greater Eureka Chamber of Commerce announces the passing of former CEO, J Warren Hockaday on Sunday, January 13, 2019.

A 1975 graduate of Humboldt State University, Hockaday was the News Director at KVIQ Television and KATA Radio in the 1980's and also worked as the Public Information Officer/Marketing Coordinator for the Private Industry Council of Humboldt County. Hockaday was deeply involved in the local community where he served as a member of the Board of Directors for the United Way of Humboldt, the Northcoast Repertory Theater and as Board President for Northcoast Big Brothers/Big Sisters.

In 1989 Hockaday accepted a position of Special Assistant for Communications and Employee Relations with the Association for Los Angeles Deputy Sheriffs where he designed and implemented communication and marketing strategies as well as represented individual Deputy Sheriffs in administrative hearings. He was also involved in contract negotiations with the 6,500 member law enforcement organization.

Hockaday returned to Eureka to serve as the Executive Director of the Greater Eureka Chamber of Commerce in November of 1999. Hockaday led the Chamber with his keen understanding of the issues, opportunities and challenges that comprise our evolving business environment until the summer of 2013, when he left to return to his roots in broadcasting, serving as the General Manager of KIEM TV.

David Hull, current Chair of the Chamber's Board of Directors stated that, "J was a great Chamber Exec, a real supporter of local businesses and a good friend. Although he will be sorely missed, his 14 years of service at the Greater Eureka Chamber of Commerce has left a legacy of service to Eureka's businesses that will endure for years to come."

Donna Wright, Executive Director of the Greater Eureka Chamber of Commerce stated, "It is with a very heavy heart that I share the passing of a great convener of business leaders, a skillful wordsmith and tireless supporter and advocate of local businesses."

"Personally I will miss our conversations and am saddened he will not be here as we transition to the new era of the Chamber, which I knew he was very excited about. My husband Philip and I have lost a dear friend."
Read the release from Mayor Susan Seaman:
"This morning, we learned at the City about the death of Tony Smithers, Executive Director of the Eureka-Humboldt Visitor's Bureau. Through his work, Tony has long been a partner with the city. I recently had the opportunity to meet with him and he talked about his love for our community and the pride he had sharing it with the world. We are pulling any discussion of tourism contracts from our calendar while we give time for family, friends and colleagues to grieve and celebrate his life. We also send our condolences to his wife Eileen and his family."

Read the full release from the Eureka-Humboldt Visitors Bureau below:
Dear Bureau Member and Friend,

I'm afraid I have some bad news. Saturday evening, our executive director Tony Smithers died suddenly at his home, his wife Eileen at his side. We don't have any more details at this point. But I've talked to the family and there are few things I would like to mention.

First, there will be no funeral. There will be a private memorial for family and close friends only. Second, they respectfully request no calls or flowers.

As some of you know, Tony had been battling health problems for some time. As it turns out, so have other members of his family too. Those medical bills have taken a considerable toll on the family.

For those who would like to honor his life and legacy, there will be a memorial fund set up at Coast Central Credit Union in Eureka.

Thank you and God Bless.

Yours,
Richard Stenger
Eureka-Humboldt Visitors Bureau