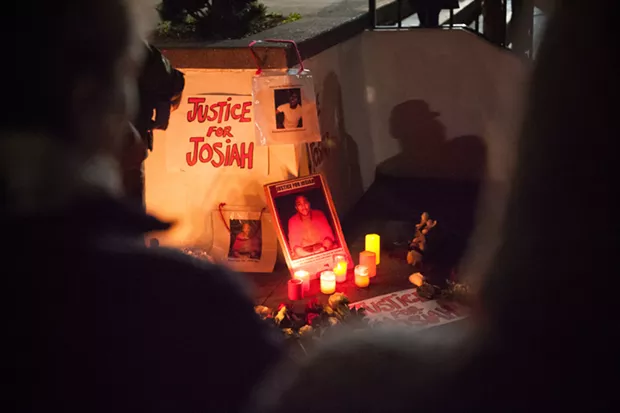 Mark McKenna
A Justice for Josiah sign and posters of Lawson illuminated by candlelight at the vigil.
Red and white roses surrounded a photo of David Josiah Lawson on the front steps of the Humboldt County Courthouse this evening as people gathered to voice their concerns, frustrations and support for the slain Humboldt State University student.
"My heart is filled with rage and sadness," Renee Saucedo, a supporter, told the crowd of approximately 50 people. "It has been 20 months since Charmaine lost a child and there has been no justice. I feel ashamed."
David Josiah Lawson
, 19, was a sophomore at HSU when he was fatally stabbed at an off-campus house party April 15, 2017. Police arrested a suspect, Kyle Zoellner, of McKinleyville, at the scene on suspicion of Lawson's murder but a judge later
ruled
there was insufficient evidence to hold him the case. Frustrations in the community have been
mounting
since.
On Nov. 9, 2018, the Arcata Police Department turned the case over to the Humboldt County District Attorney's Office, with then APD interim Chief Richard Ehle
saying
forensic evidence had linked a specific suspect to Lawson's killing but there have been no arrests and the office is still reviewing the case. District Attorney Maggie Fleming
told
the
Journal
on Dec. 2 that the issue was "incompletely resolved" and she's reached out to the Department of Justice for additional information on its DNA analysis of a knife found at the scene. She declined to offer a timeline for making a charging decision, saying "justice would not be served by making a decision without all the information we need and I'm not in control of when we will receive it."
Lawson's mother and other supporters have
urged
Fleming to move quickly in the case and Saucedo told the crowd this evening she was happy to see community members mobilizing and demanding justice.
"We are calling on the DA to file charges," Saucedo said.
Saucedo said she spoke with Lawson's mother last night and Charmaine Lawson told her she was unable to attend tonight's vigil but indicated she plans to be at
The People's Rally and March for Justice
next week.
The rally and march are scheduled to begin at 10 a.m. on Jan. 21 at the Humboldt County Courthouse and will see people march to commemorate Martin Luther King Jr. and highlight local issues of racism and injustices. The Justice for Josiah campaign is participating in organizing the event.
One by one, people at tonight's vigil shared their memories of Lawson, their frustrations with Fleming and their support for Charmaine Lawson.
As they spoke, Shemya Vaughn wiped the tears from of her cheeks.
"I kept thinking about my daughter and getting a call like the one Charmaine got," she said. "I didn't know Josiah but I came to support another African American mother."
Reverend Bryan Jessup, of the Unitarian Universalist Fellowship, and Reverend Bethany Cseh, of the Arcata United Methodist Church, closed the vigil by offering prayers for Charmaine Lawson, students, supporters and Fleming. Everyone gathered around one another, touching elbows in a prayer. Cseh asked that the vigil end in the spirit of love.
"We offer prayers for the students who have the bravery to stand up in Arcata and say, 'We need justice', we offer prayers for strength for Charmaine," Cseh said. "We offer prayers to Maggie Fleming to open up her heart."
11 slides
Editor's note: This post was updated from a previous version to correct the spelling of Renee Saucedo's name. The
Journal
regrets the error.