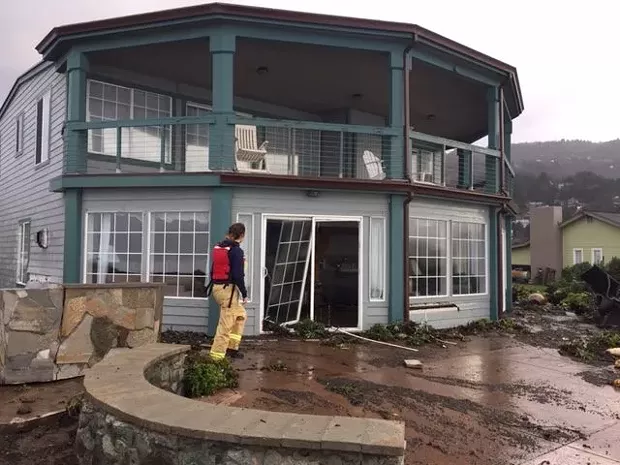 Cheryl Antony of Shelter Cove Fire
Damage caused to a Shelter Cove home.
The Coast Guard (
working without pay due to the government shutdown
) this morning authorized the reopening of the Humboldt Bay harbor after
heavy surf Thursday
prompted the closure.
The waves upwards of 30 feet, which damaged at least
eight homes in Shelter Cove
, also necessitated the closure of Centerville Road due to hazardous conditions. (If you are wondering why, check out the video below.)
But the rain is sticking around for a while, at least through Sunday, and the Eureka office of the National Weather Service has issued a flood watch beginning at 4 p.m. today through late Saturday for areas of Del Norte and northern Humboldt County.
For the latest information about specific areas of Humboldt, visit the
National Weather Service website here
and enter a city or ZIP code in the top left-hand corner search box.
The service watch states that "moderate to heavy rain will occur over a long duration late Friday afternoon through Saturday night with rain totals over 4 inches likely "across west facing ridges."
"Ponding of water on roadways, rapid rises on small streams, and mud and rock slides will be possible due to heavy rain," the NWS Flood Watch states.
Gusting winds up to 40 to 50 mph are in the forecast and those thunderstorms that made quite the appearance on Thursday are also expected to make another arrival on the coast Sunday.
Read the post from the National Weather Service below:
A frontal system is forecast to stall over the region today through Sunday. The front will server to focus moderate to heavy rainfall over Del Norte and northern Humboldt Counties Friday through Saturday night. Due to the long duration of the rainfall, a flood watch has been issued from 4 PM Friday through 4 AM Sunday.

Lesser rainfall amounts will occur across the rest of northwest California. In addition, gusty south-southeast winds will develop this afternoon and evening over portions of interior Humboldt and Del Norte Counties above 1500 feet in elevation, where gusts from 40 to 50 mph will be possible. A colder airmass will enter the region Sunday afternoon, causing snow levels to fall to around 4000 feet. In addition, showers and thunderstorms may produce small hail along the coast Sunday afternoon and evening. For specific forecast details at your location, visit weather.gov/eka.