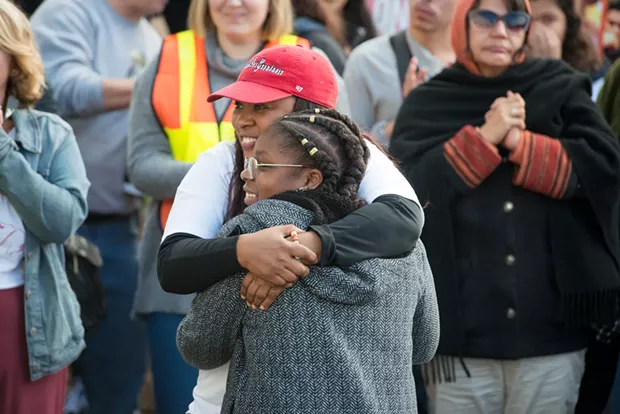 Mark McKenna
Charmaine Lawson hugs Sadie Shelmire, 11, after Shelmire spoke of the racism she has experienced in Humboldt County.
Hundreds of people gathered in front of the Humboldt County Courthouse on Monday to celebrate the life of Martin Luther King Jr. and listen to speakers from different backgrounds talk about the racial prejudices they have faced locally.
Charmaine Lawson organized the march — which led to the Eureka NAACP's annual Martin Luther King Jr. celebration at the Adorni Center — after she learned the Eureka's Women's March had been cancelled, though it was ultimately put on by different organizers (read more
here
). She reached out to Renee Saucedo of Centro del Pueblo and together they recruited local organizations — including the Seventh Generation Fund for Indigenous People — that represent communities of color to join them.
Lawson's son David Josiah Lawson,19, was a Humboldt State University sophomore when he was fatally stabbed during a fight at an off campus party April 15, 2017. Kyle Zoellner, a white Mckinleyville man, was arrested at the scene and charged with Josiah Lawson's murder but the case was later dismissed when a judge ruled there was insufficient evidence to hold him to stand trial.
Outwardly, there appeared to be
little movement
in the case at times until Nov. 6, when the Arcata Police Department
turned
its investigation over to Humboldt County's District Attorney's office, with then interim Chief Richard Ehle saying detectives had found physical evidence linking a specific suspect to Lawson's killing. The district attorney is
still reviewing the case
, waiting for additional information on forensic testing from the Department of Justice. Meanwhile, frustrations continue to mount as Charmaine Lawson and others demand action.
Monday's rally began with Saucedo shouting "Happy Birthday Dr. King. Long Live Dr. King. Long Live Josiah Lawson. Long Live Charmaine Lawson."
Saucedo acknowledged and gave gratitude to the Wiyot Tribe, noting the rally was being held on Wiyot ancestral land.
Under a sunny sky, the crowd watched as Charmaine Lawson's voice quaked with emotion as she spoke about her son and his unsolved case. The crowd was filled with people from different backgrounds and ethnicities and passing cars honked in support. Joining the rally and march in uniform were Eureka and Arcata police chiefs, Steve Watson and Brian Ahearn, who looked on as Charmaine Lawson spoke.
"I stand here waiting for justice for my son," she told the crowd. "I'm still waiting and I'm not going anywhere. I am dismayed by the lack of motivation for justice for my son. I am dismayed that the judicial system that is to protect everyone has failed my black son...He was going to conquer the world with his brilliance, D.J. was an outstanding black man. He was a nephew, brother, grandson but, most importantly, he was my son. My son. It's not too late to get to know my son."
Lawson, who has already repeatedly addressed the California State University Board of Trustees, demanding its help in bringing her son's killer to justice, said she was going to Congress to shed light in the unsolved case and urged the crowd to call their elected officials and tell them what is going on. Back in July, North Coast Congressman Jared Huffman sent a letter to the FBI officially requesting that it step in and assist APD with the investigation.
One after another, speakers talked about their different experiences. Deema Hindawi, a junior at HSU, spoke about moving from a big city to a rural one and the culture shock that came with it. She spoke about what it was like being one of only two students who wears a hijab.
"Just because you see someone wearing a hijab, doesn't mean it's always me," Hindawi said.
Eleven-year-old
Sadie Makayla-Tiye Shelmire
, described the challenges of what it is like growing up black in Humboldt and shared her experiences with racial prejudices.
"Students would call me the n-word; they tell me my skin looks like poop and even tell me that my skin would look better white.'" Shelmire told the crowd.
Shelmire credited her mom with teaching her to use her words when combating these experiences.
Allen McCloskey of the National Union of Healthcare Workers spoke about his work in the union and fighting for economic justice. In his work McCloskey said he takes counsel in the words and teachings of King and his support of organized labor.
HSU student Tony Wallin talked about being a convicted felon and the lack of opportunities that come with that label. He said he's starting a club of formerly incarcerated students at HSU hoping to change the stigma of surrounding ex-felons.
After hearing the speakers, Ana O. was so moved she decided to speak about the expired Violence Against Women Act and her experiences of how Humboldt County deals with domestic violence. She said the act protected all women, LGBTQ, Native and immigrant, alike.
"This act was important to all of us, it protected everyone and they quietly let it slide with this government closure, I haven't heard much about it," she told the the crowd, then pointing to the courthouse. "This courthouse never enforced it for some women. It didn't for me."
Briana York stood in the crowd holding hands with both of her children. York is indigenous multiracial, raising multiracial children and said she wanted her kids to see diversity and the beauty in being a minority in Humboldt County.
"I wanted them to be a part of the march and the Justice for Josiah campaign," York said. "They'll have a better understanding of diversity and a good exposure to different cultures. I want them to learn not to fight hate with hate but with love, peace and empathy."
York said that her son had recently faced a racial slur at school, when he was called "poop-face" by another student. York said that administrators weren't handling the incident as a racial slur and she had to educate them on why she felt it was.
After the speeches, traffic control volunteers ran toward the streets to supervise rally-goers walk to the Adorni Center for the Eureka NAACP's annual Martin Luther King Jr. celebration, which was filled with music, more speeches and commemoration of past Eureka NAACP members. The theme of this year's celebration was "Strength in Our Community: Past, Present and Future"
The event celevrated the future with a speech from Shelmire, as well as the announcement of the David Josiah Lawson Scholarship Fund.
Shelmire said she was proud to speak at both events.
"This was a great opportunity to tell people who actually care about what I've been through," she said.
Lorna Bryant with Eureka's NAACP and Charmaine Lawson introduced the David Josiah Lawson Scholarship, which began taking donations last year. According to Bryant, the scholarship fund has raised $6,000 and Charmaine Lawson's vision is that it be awarded to a student of integrity, as were various scholarships her son applied for. She told the Journal that she is extremely touched and honored that Josiah's name will forever live on in education. More information on the scholarship will be posted to the Eureka NAACP's website Feb. 1.
Monday's celebration ended with a prayer and cake and left Charmaine Lawson feeling supported.
"The turnout was amazing. I didn't expect that many people. I am not fighting alone and I saw that today. My heart is truly broken but I pull my strength from the community and I am eternally grateful."
See slideshows from both the rally and the Adorni Center event below.
16 slides