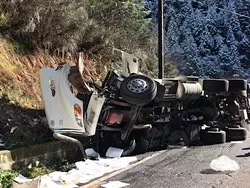 Caltrans
The crashed tanker.
UPDATE:
Caltrans reports that U.S. Highway 101 is now open with one-way traffic control in place, which will continue into tomorrow "due to damaged pavement."
PREVIOUS:
A 62-year-old Willits man suffered minor injuries this morning when his tanker carrying a full cargo of fuel hit a bridge rail on U.S. Highway 101 north of Leggett and overturned, according to the CHP.
The crash caused the highway to be shut down just before 6:30 a.m. Read more
here
.
As of 1:30 p.m., there was no estimated time for the major transportation artery into and out of Humboldt County to be reopened, although CalTrans is saying "hopefully" by this evening.
Read the release from the CHP below:
On 02/05/2019, at approximately 0620 hours, a semi-truck tanker, driven by Archie Campbell of Willits, CA., was traveling northbound on US-101, north of Leggett, in Mendocino County. The semi-truck was carrying a cargo of gasoline fuel. For reasons still under investigation, the semi-truck collided with Jitney Gultch bridge rail while negotiating the left hand curve of the bridge. The semi-truck overturned onto the roadway, blocking the northbound lane of US-101. As a result of the collision, the tank trailer began leaking fuel onto the roadway and shoulder. CHP personnel responded to the scene and assumed incident command. The driver was transported to Jerold Phelps Community Hospital for minor injuries. DUI does not appear to be a factor in this collision.

Due to the fuel spilling onto the roadway and surrounding area, Haz-Mat protocols were established. Mendocino County Environmental health was notified. US-101 has been shut down in both directions. Northbound traffic is being turned around at SR-1 and southbound traffic is being turned around at Reynolds Overcrossing, south of Piercy. An estimated time of reopening has not been determined at this time.

The California Highway Patrol Garberville Area office is investigating this collision.

The California Highway Patrol would like to remind motorists to slow down and use caution when driving in inclement weather.