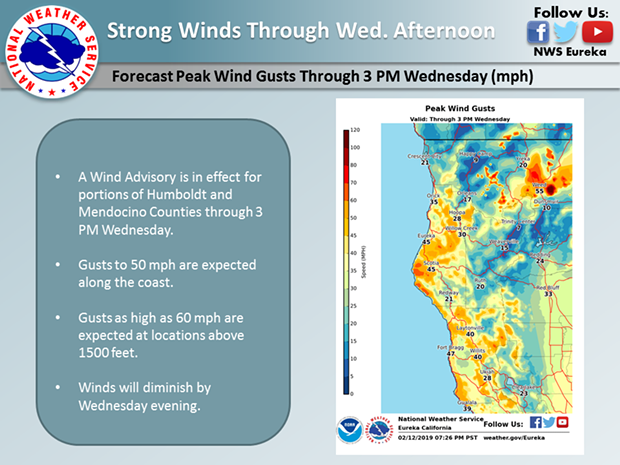 UPDATE:
Caltrans has updated that State Route 36 is open to one-way controlled traffic.
PREVIOUS:
Humboldt County will continue to see rain, wind and mountain snow for the next week, according to the Eureka office of the National Weather service, which reports a forecast of "multiple rounds" of an "active and wet pattern."
A
wind advisory remains in effect
for the coast today until 3 p.m. with gusts as high as 50 mph possible and the Eel River is under a flood watch from Thursday afternoon to Friday afternoon.
While unclear if it's weather related, more than 1,200 PG&E customers in Eureka lost power this morning, according to the company's outage page, joining hundreds of other Humboldt County residents who were also left in the dark. No cause or estimate for restoration was available as of 8:30 a.m.
To find out about outages in specific areas, visit
https://m.pge.com/#outages
.
Meanwhile, a rock slide has closed down State Route 36 west of Grizzly Creek Redwoods State Park, according to the Humboldt County Office of Emergency Services.
The CHP Traffic Incident Information Page
reports
that the parks service is saying several large boulders came down in the slide. The parks service is indicating a loader will clear the area. There are no recent updates or estimates on when the roadway will reopen.
The Flood Watch for the Eel River at Fernbridge:
* from Thursday afternoon to Friday afternoon.
* AT 1:15 AM Wednesday, the stage was 3.9 feet.
* Minor flooding is possible.
* Flood stage is 20.0 feet.
* FORECAST...Flood stage may be reached by Thursday evening.
* This river is Forecast to rise above monitor stage of 14.0 FT
early Thursday morning then expected to rise above flood stage
of 20.0 FT Thursday evening then forecast to crest near 21.0 FT
then forecast to fall below flood stage of 20.0 FT late Friday
morning then forecast to fall below monitor stage of 14.0 FT.