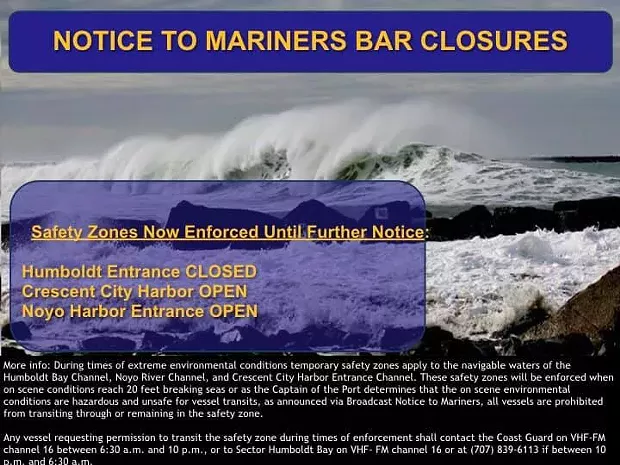 UPDATE:
The U.S. Coast Guard has closed the Humboldt Bay harbor entrance until futher notice due to the high surf.
Any vessel requesting to enter the safety zone is required to contact the Coast Guard VHF-FM channel 16 between 6:30 a.m. and 10 p.m. or to call the Humboldt Bay Sector at 839-6113 between 10 p.m. and 6:30 a.m.
PREVIOUS:
Another winter storm warning is in effect for the region, with elevations above 2,500 feet slated to see another 10 to 20 inches of snow, according to the Eureka office of the National Weather Service.
Meanwhile, rain, hail and possible thunderstorms are forecast for the coast along with large swells expected to reach up to 25 feet by this evening, with increased "run-ups on beaches" and waves "topping and washing over large rocks and jetties."
The weather service has issued a high surf advisory and urged mariners
"to exercise extreme caution or stay in port until the threat subsides" and to "contact the U.S. Coast Guard for information regarding harbor and bar closures."
"These large waves will be capable of sweeping people into the frigid and turbulent ocean waters," according to NWS. "Beachgoers need to stay farther back from the surf and off of jetties or rocks, and mariners should use extreme caution when operating near the surf zone."
(If that's getting you down, enjoy a moment of Zen with reader Nick Jones' video capturing Humboldt's natural beauty amid the region's deep plunge into winter this week.)
For the latest weather information about specific locations, visit
www.weather.gov/eureka
.
Weather service statement on the winter storm warning:
Cold air spreading across the region is aiding in accumulating snow for elevations above 2500 feet. Numerous showers will continue to develop over northwest California through Saturday morning, favoring heavy wet snow across the interior mountains of Trinity, northeast Mendocino, and interior Humboldt and Del Norte Counties.